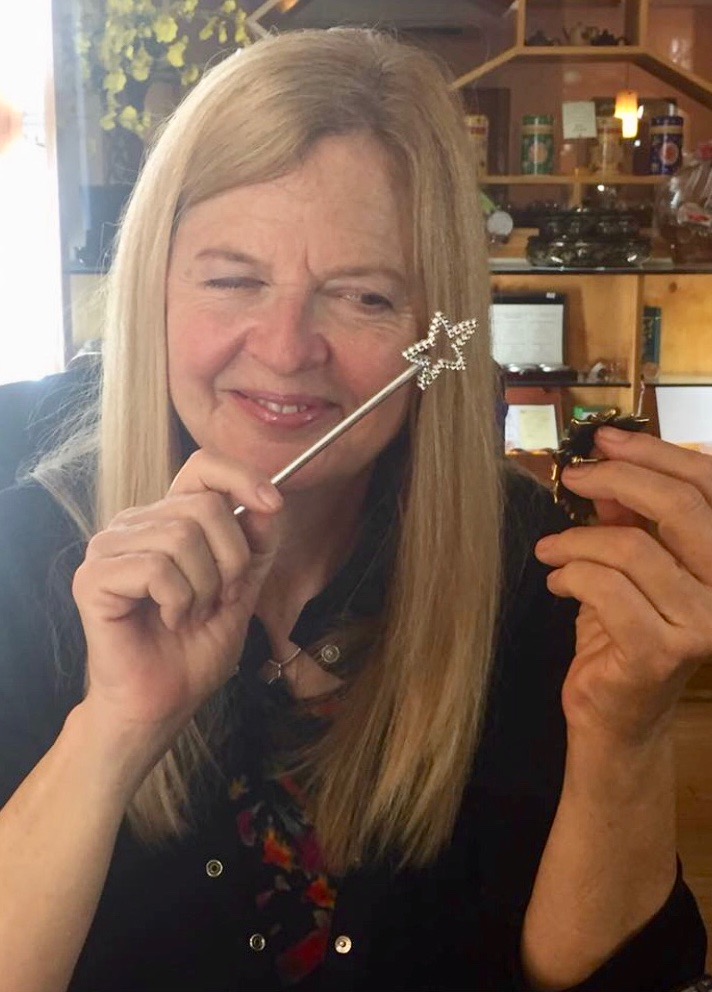 Here's why I do it. 
Not that 🙂 well, I do that too….?
What's that??!
I'm endlessly drawn to people inspiring and transforming themselves. 
We are all just inches or moments from doing something new that shifts everything. 
You might know that I procrastinated writing my second book for 25 years- I had written my first book at age 10, and then fallen into traps of self destruction, avoidance and FEARS. 
Then an editor said to me, "When are you going to write your book?" 
And something just CLICKED. 
I practically pushed her down to get her out of my garden so I could start that book. And I wrote that book in 2 weeks, and burst forward with dozens of books and hundreds of products, and Planet SARK was born, and keeps revolving happily to this day. 
This is why I do it- offering a program and membership like Succulent Wild World– which is open right now, and closing on Thu/24 at midnight Pacific. And it's a magical place out of time that just happens to be online. 
Of course it's loaded with all kinds of worthwhile features and benefits & FUN, and those are all great- but I do it for the CLICK that happens when people are surrounded with like hearted souls who can support, celebrate and SING them right into their click. 
And BINGO, people start brand NEW things and ways of being they've always dreamed of– just like that. 
Inspiration comes in so many forms. You and your inspiration can be activated, reactivated, tickled and encouraged endlessly by the right conditions. 
That's why I created a Succulent Wild World- so that people can be together, in those right conditions, supporting each other in creating and living more of their actual dream lives. 
That's why I do it, and will keep doing it, as long as people keep streaming in for the goodness, the succulence and the creativity IN ACTION. 
If you want to be more inspired, allow me to mentor and support you, and enjoy what you discover. If you want to be INspired and surrounded with great people and more magic and miracles, you've found your spot. 
If you want practical wisdom to apply to real life circumstances, it's in Succulent Wild World, and you can join right here. It's open til Thu/24 at midnight, and then thoughtfully closes again. 
Here's an inspiring quote for you that reminds me of how spirits can connect with each other, across time and distance and travel endlessly forward. 
"I came across one of your books (Inspiration Sandwich) about 22-23 years ago when I was about 17-18 ish? Books like yours were something I have never read before, and I remember feeling like I was reading something that made me feel truly alive and excited about life. It opened up ideas in my mind/heart and made me look at my life through a completely different lens. I was young and learning about the world, and it's hard for me to find the right words, but your books resonated with me at a deep level, and I feel like they shaped who I wanted to become. Everything you wrote, the stories you shared, the multicolor print, your drawings made me want to live life to the absolute fullest. Today, I'm 41 and and all I can think of is how I'm going to order your books for my 15 year old daughter right now, so she can have her very own copies of the first books that made me feel like anything is possible." 
– Jenny Canino Meier
Thank you Jenny! And here's to us all moving endlessly forward, inspiring ourselves and others with what what we dream, and what we can create to offer to this world. 
Love,