Most people don't think of finding miracles at the Department of Motor Vehicles- in fact, it seems like a challenge to find any miracles in that environment.
When you wear "miracle glasses" you see them everywhere.
While at the DMV recently with my friend Val, I witnessed a little boy holding his mothers hand, being pulled rapidly along behind her, and stopping suddenly at a shaft of light on the dirty linoleum floor.
His little tennis shoes were perfectly lined up at the edge of the light. When his mom urged him to continue, he said:
"But Mama- the light is where God gets in- and whoever steps in it gets that light too."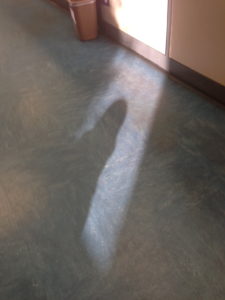 And then I watched as each person crossing that light shaft looked blessed.
A man rolling along in his wheelchair stopped in the light and dug through a myriad of plastic bags, dropping things on the ground and muttering as he did so. I was about to offer to help, and then watched as he extracted a broken plastic comb. And then I realized what he was doing.
He was combing his hair before his turn to have his license photo taken.
And I cried with joy for every one of us being so tenderly human and blessed.
I think the actual name of DMV is:
Deep
Miracles
Vibrating.
There are many miracles swirling around us all, all the time. I know you have miracles of your own to share with the world as well.
I've used my writing to share miracles, and I created my Write It Now with SARK program to support you in sharing your miracles too.
With my next cycle of WINS starting in just a few days, I love reflecting on how more miracles exist when we see miracles in life – like I do at the DMV.
What miracles do you have to share?
Love, Susan (aka SARK)