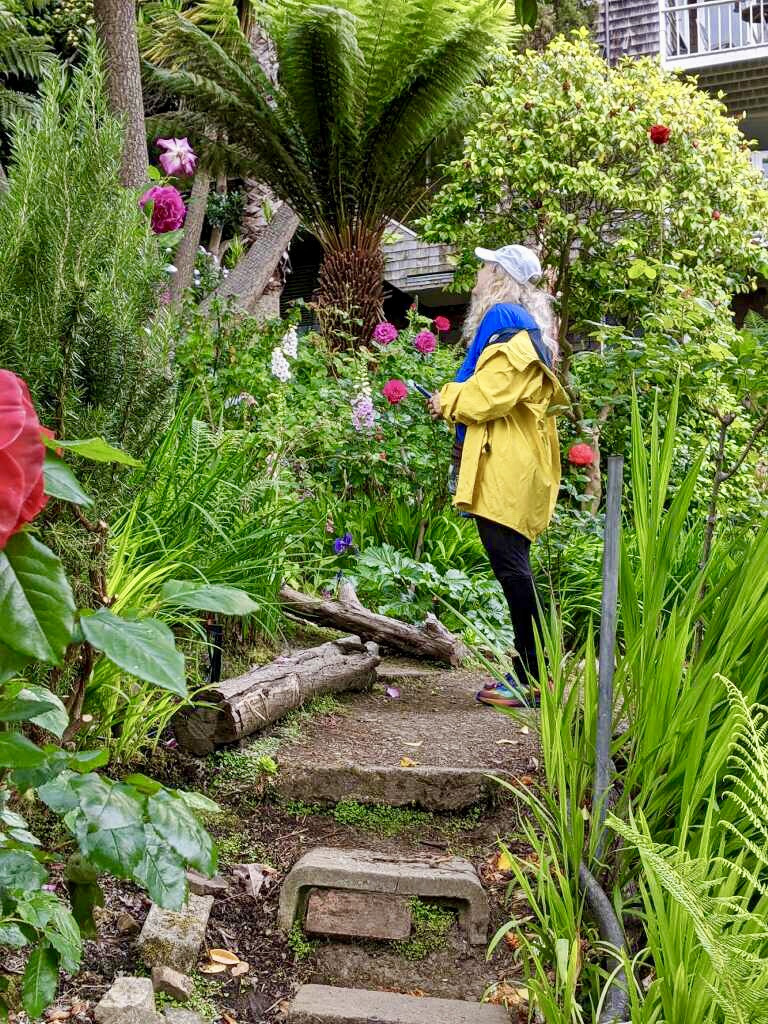 Here I am being curious in the garden of possibilities~ 
Actively dreaming and doing causes the world to shift and change, as we're seeing right now with Black Lives Matter and all the systemic issues that are arising for healing.
When we can envision and ask for the changes, change happens- even though it takes generations and lifetimes, the healings and changes surround us as we live and breathe now too.
Since first announcing my BIG dream to my mom at age 10;
"I'm supposed to be a beacon of hope and write books for the world,"
I've been so curious about dreams and how they become REAL. 
My dream was primarily challenged by my being sexually and physically abused in my family, and it almost never became real because of that. In fact, I was silent for 25 years after that first announcement. During those years of silence, I was also cultivating my abilities to ask for and receive miracles. 
The miracles of having my dream be witnessed and encouraged into being by a series of loving mentors was definitely how it did become real, and now in my private mentoring practice, I see and experience the same thing with my clients who are making big contributions to the world with their dreams in action.
Our dreams love to be seen, known and loved, just as we do. 
When we can see them, feel them, name them and claim them, dreams can and do bloom forward in big ways.
Especially when someone can see for you something you can't quite see for yourself- or they can see it bigger. 
It can feel scary to live our real dreams– I know that every dream I've dreamed has had multiple layers and levels of fears attached. All the "what ifs" swirl into view, all the limited thinking that kept me repeating what hadn't worked before, or what hadn't worked yet. Also, the significant abuses and traumas that I experienced had caused me to react very fearfully to anything new or unknown. 
I think that fears dismantle most dreams before they ever get started- but dreams are resilient when people want to make them real, and especially when they ASK, and receive support for the asking. 
And sometimes we ask without having any idea how our dream or dreams could possibly happen. 
I was asked in an interview I did the other day, what dream had asked for, that I didn't expect would happen. 
That was easy! 
I had dreamed that a great love would just appear in my life- like magic! Then I collapsed into fears about it, and eventually just let go of that dream- or so I thought. 
John appeared in 2012, and told me that he was "qualified to adore me." And he was. We lived, loved and created together and got engaged to be married in 2014. I did not dream that he would die in my arms in 2016. 
After that, I spent a few years DEEPLY grieving and wildly living, wondering what other dreams I might ask for. 
This time, it didn't feel as easy. 
I wanted another great love, but was nearly paralyzed by my fears about HOW.THAT.COULD.POSSIBLY.EVER. HAPPEN.
If you've read me for awhile, you know that it DID happen, and that that dream became REAL. And more dreams have become real because of that one! 
What dreams are you dreaming? Which ones have become real? Which ones would you like to make real or more real? Write about it here- it's another powerfull form of asking to share your dreams~
My dream of having another great love was impaired by my not being able to SEE it.
With all my resistances, statistics about the chances of "older women" finding love, and my long list of why it wouldn't work for me, I was pretty positive (aka convinced) that it wouldn't, or couldn't. 
And then I spent quite some time proving that, and finding other people who would "relate to me" about how hard it is to find love. 
And since I couldn't see it, I spent time gathering evidence about how it wasn't happening- SEE!!! And this further reinforced my belief. 
I believed this way because I couldn't SEE any ways that it could be different. 
Then, I kept multiplying my non-seeing so what I saw matched it. This was very effective at keeping everything the same, and more of what I didn't want.  
Thankfully as I kept creating what I didn't want, my quantum sight abilities were also being created! 
What I call my quantum sight was so much larger and more fascinating than the prior program I was listening to. 
Quantum Sight became for me, the way I could see it even if it WASN'T THERE. 
I decided to multiply what WAS there, in order to magnify, amplify, expand what else might want to join in. 
My love for life itself became that magnetic draw that pulled my dream right into focus. I wrote a giant love letter to the world, and created other practices to expand my Quantum Sight abilities and activate my dream. 
David and I just celebrated our 2 year anniversary, and are dreaming together now too, and practicing all kinds of Quantum Sight. All kinds of other dreams are being made REAL now too! 
I love writing, sharing and mentoring about what I discover that works for everyone to grow their dreams. 
We are all FULL OF POSSIBILITIES and dreams waiting to be seen, known and loved. And the whole wide world needs us to have our dreams in action now more than ever before.
Love, 

*p.s. I'll be sharing some practices for everyone to activate more of their dreams on a Facebook Live(ly)Thu/18 June 1pm Pacific- join me to receive your dream activations. Register HERE and you'll receive a reminder!