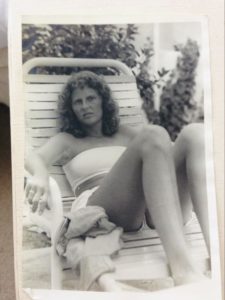 This is #3 of a 6 part succulent "mini series" for you about my writing and creating the book Succulent Wild Woman; Dancing With Your Wonderfull Self.
Here I am at 19, wildly resisting my succulence, even though I didn't really know it at the time. In this photo, I can see my rage and resistance so clearly. I remember refusing to smile, because I didn't want to. I applaud that me who didn't acquiesce to the request to "smile for the camera." I also feel such tenderness for the "me" in this photo. 
I was wildly resisting my succulence because I felt traumatized every day by a patriarchal culture that had so severely harmed me- starting in early childhood in my family. It's a miracle I survived. 
In 1973, at age 19, I was writing in bright colors in my big black journal about how I dreamed to feel liberated, and to be able to help liberate others, but I had no idea how to do that. So I began asking and exploring. 
I began to identify what I felt I needed to live wildly and succulently, and slowly began to create the conditions to live in those ways, in the midst of my experiences of anxiety, poverty, fears, and hiding from my holy purpose. 
Between 1973 and 1997, I lived a LOT of life, and resisted a lot of succulence. My resistance led me to my liberation, and I began living like a succulent plant does, gathering nourishment from the environment and filling itself up from the inside, and then sharing love from the overflow. I learned what my holy purpose was; to be a transformer, uplifter and laser beam of love- and began to learn about fulfilling it. 
Fabulously fast forward to 1997 when my book Succulent Wild Woman came bursting into the world. It became an immediate national bestseller, was optioned for a major motion picture, and groups of Succulent Wild Women formed all over the world. A mighty movement formed that continues to this day. 
What meant the most to me though, was that by authentically embracing my succulence, I had inspired so many women to embrace theirs. Many women felt that this book gave them permission to be themselves. 
And now, 25 years later in 2022, I've created a very special anniversary edition! I've added 4 brand new chapters of art and words about my succulent wild life and the miracle methods I use and teach to live more often in love and liberation. 
I invite you to join me in your own succulent wild life and the living of it. 
Or, if you're wildly resisting your succulence, I honor that too. We're usually a blend of both of these;-) 
You can preorder the book now right here, and thank you. 
Let me know what's succulent about your life – what feels juicy and nourishing to you? Include a photo if you want – I'll love to see your beautifull face!