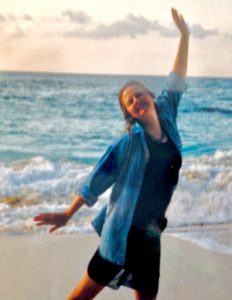 This is #2 of a 6 part succulent "mini series" for you about my writing and creating the book Succulent Wild Woman; Dancing With Your Wonderfull Self.
When I started writing this book, I was 40 years old and 5 years past a suicide attempt. I had been having flashbacks to the abuse in my childhood and hadn't eaten or slept in weeks. 
Thankfully some loving soul at the suicide prevention line said to me, "Did you really want to die, or do you just want the pain to end?" 
Aha! I just wanted the pain to end and miraculously got the help I needed. 
It took years to restore my soul, and I'm continuing to unravel the trauma. 
I published this book at age 42, and then kept publishing a book each year for many years. This was after procrastinating for 25 years, having written my first book at age 10, and then publishing my first book at age 35. 
This is a photo of me at age 40, in the Bahamas, looking so carefree and unknowingly holding so much unresolved trauma inside. I didn't really know then how much heart aching healing I would be traveling into and through. 
I learned that healing happens in spirals and layers and I kept traveling and healing through them all and continue to do so. 
Now I've created this 25th Anniversary Edition with 4 brand NEW chapters of art and words, somehow encapsulating the last 25 years of my life- no pressure there! 
I entered a magical time transporter to do it and invite you to join me. 
You can Pre Order the Book Here.
I wrote this book to fulfill an unspoken promise I'd made to Maya Angelou when I was 16. 
I'd read her book I Know Why the Caged Bird Sings and gone to my local library to meet her. I somehow got the courage to tell her that I'd been molested in my family, and she took my hands in hers and said so powerfully to me, "You are alright. You are alright." And I took her words into every cell of my body to fuel me forward. 
Many years later I asked her to endorse this book, and she enthusiastically said yes. After I'd gotten to know her personally, she said to me in her magnificent booming voice; 
"SARK books are cross generational, like mine are, and they must continue to serve succulence to all the generations."
              And so they do 
Here's why I wrote Succulent Wild Woman:
I wrote this book to speak for myself and my mother, grandmother, great grandmother and great great beyond mothers who couldn't or wouldn't or truly couldn't share their actual life and what it took to live it while feeling oppressed and pressed down and couldn't imagine dancing with their wonderful selves even though they wanted to. 
I wrote this book for all the young women and those identifying as women to have a place to roar for injustices and for their desires together, and to see and live their succulence out loud and in their interiors. 
I wrote this book as a bold statement of loving liberation for all women everywhere, to remind them of the importance of filling their own cups of love on the inside, so they can share from the overflow- this is what succulent plants  do- nourish themselves from the inside first. 
I wrote this book for consciously loving men who truly love women to see and know women as the true warriors that they are, and stand as knowers and way showers for all the other men who didn't or don't know or didn't or don't act with love.
I wrote this book to celebrate all the succulent wild women who refused to quit or stop or shrink or be unseen, and for all those who want to live succulent wild lives in all circumstances- no matter what. 
I wrote this book for me and for you. 
Let me know what you like or appreciate about Succulent Wild Woman- what it means to you, and if you'd like to read the new pages in this anniversary edition! 
I also appreciate you sharing this post or leaving a comment or a 💜
And here's the pre-order link again, and thank you!