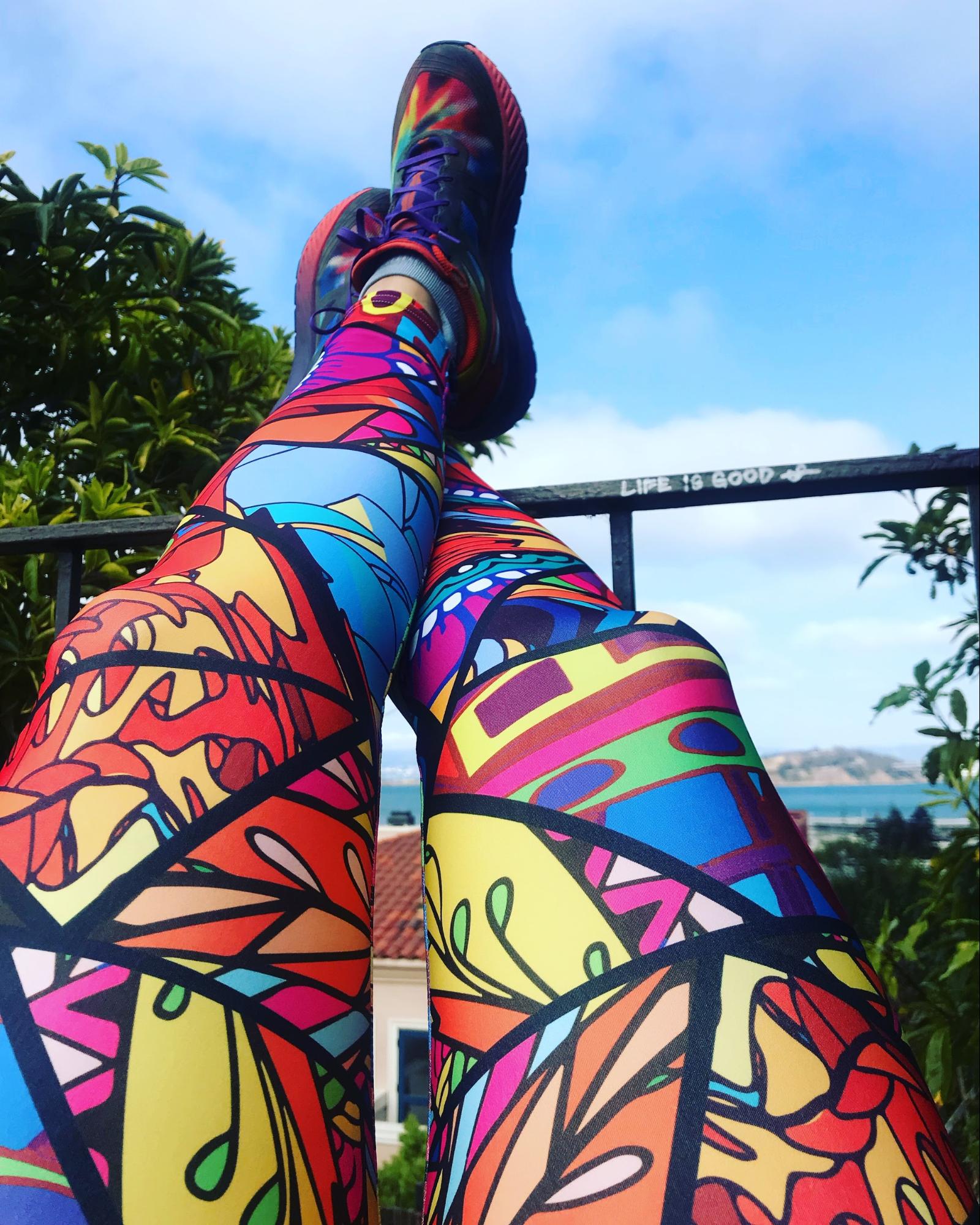 I'm always asking this question, "What will spark me?" and wondering what will get me going on one of my many creative plans or projects.
Because: 
The siren call of lethargy is always strong. 
The voices that tell me all the reasons why not are loud. 
The absences of belief in myself are prominent. 
Since I became SARK in this world in 1982, I've been challenged to continually inspire myself so I can inspire the world. 
People tell me I make it look easy. 
I'm glad that they don't see the divine agitation that often precedes my actions. 
Here I am after a recent miracle walk, lying down with my legs up on a railing, recovering from some series of crabby thoughts, and then looked closer and saw that someone had reminded me to look differently by writing on the railing that "Life is good." That sparked me into having a new series of creative thoughts. 
I've learned that there is always a spark that sets off the flame of creative activity. 
Questions like these start swirling around: 
"Why don't I?"
"Maybe I could?" 
"What if I" 

SO MUCH HAPPENS WITH THE SPARK.

I dreamed of a Magic Cottage in San Francisco and drew it in my journal and moved in a month later, and still create in it today. 
After 25 years of actively procrastinating, I lit 100 candles in my Magic Cottage and wrote my first book; A Creative Companion: How To Free Your Creative Spirit, in 2 weeks. 
I was asked how I creatively live, and read out loud a poem I wrote that we are all called to be artists of life. That poem How To Be An Artist went on to be printed millions of times and flew into hearts and souls around the world, and activated my entire brand and business. 
I wanted to feel healthier in my body, so I sparked a book called Transformation Soup: Healing for the Splendidly Imperfect, and that led to my giving up eating refined sugar, which continues to this day. 
I saw how I was hiding from prosperity, so I created a book called Prosperity Pie: How to Relax About Money and Everything Else, and developed "wealthier habits." 
I wanted more love, so I co-wrote and drew a book called Succulent Wild Love: Six Powerful Habits for Feeling More Love More Often, and created another great love in 2018 with David after my previous fiancé (and co-author) John died in 2016. 
All of my creations have required that SPARK, that preceded the flame, that then cause things to burst into BEING. 
You know I'm going to ask you: 
What are your creative dreams and desires? 
Where do they live? Maybe in a drawer, closet, computer or somewhere in your big beautifull brain? 
Now: When are you going to do them? 
Now is clearly the time. 
We are each like the bees: 
IRREPLACEABLY valuable with such rich gifts to share. 
Our refusal to believe in the power of our creativity is the absence of a spark. It is what's missing in this world. 
What sparks you is what wakes you. 
So I always want to know: 
What's your dream? 
If you name it here now, sparks will fly, things will get created, ideas will move, your vision will be made REAL.  
I dare you. 
Love,
P.S. Calling all creators for a DREAM RAISING DANCE PARTY on FB Live(ly) I'm doing on Fri/14 August @11am Pacific. Bring a dream as your dance partner and let's boogie. If you don't know what your dream is, bring your desire.



Register NOW

 
and you'll receive the rePLAY if you can't be there live!