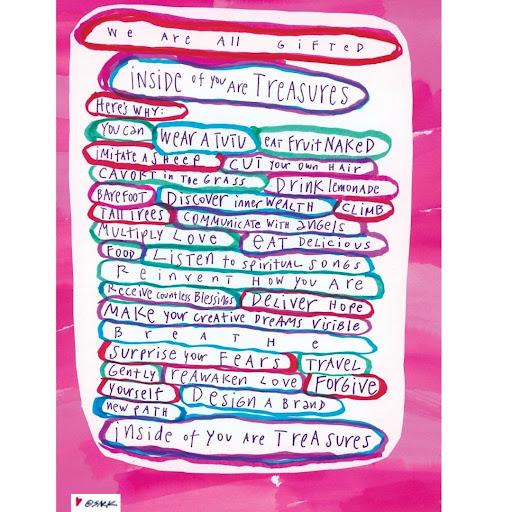 Inside Of You Are Treasures
Here's why: 
You can: 
Wear a tutu
Eat fruit naked
Imitate a sheep
Cut your own hair
Cavort in the grass
Drink lemonade barefoot 
Discover inner wealth
Climb tall trees
Communicate with angels
Multiply love
Eat delicious food
Listen to spiritual songs
Reinvent how you are
Make your creative dreams visible
BREATHE
Surprise your fears
Travel gently
Reawaken love 
Forgive yourself
Design a brand new path 
Inside Of You Are Treasures
Love,
S

A

R

K
p.s. Sign up for my Magic Blog HERE.
I love sharing serendipitous adventures, musings, fresh perspectives, and radiant resources that you might enjoy!
I include more art and the latest announcements about what I'm doing, being and creating.