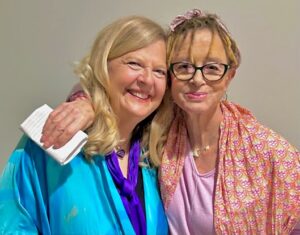 Here I am with the utterly amazing Anne Lamott- we presented at last years writing retreat together, along with Julia Cameron and other passionate teachers. 
I'm SO inspired now to invite you to this year's ULTIMATE Writing Retreat. This event is even more expansive than last year's and it will FUN, playfull, magical, practical, and life-changing. We'll show you how to access and amplify your creative gifts and share them with the world. 
People often tell me they admire my ability to self-express, and my passion to live a creative life.
I'm so glad that I have these abilities and that they inspire people, and I'm especially glad for everyone who expresses themselves and their creativity in our world.
It wasn't always like this for me. I used to feel SO afraid to share myself and my writing or art with the world. Then I learned how to change the patterns that kept me repressed, and allowed me to be expressed, and to love being and living that way. 
I absolutely believe that the world wants us to be the channels of our unique creative gifts, and will turn eagerly towards us when we do.
We are made to create. 
I'm inspired for you to experience the magic and transformation that is already taking place leading up to this remarkable event. 
It's happening next month in Santa Fe, New Mexico and you can join us In-Person or Livestream. I'll be there presenting, along with Anne and other marvelous souls Julia Cameron, Alex Elle, Jacob Nordby, and so many other incredible creators. 
September 22nd-24th!
Santa Fe, New Mexico 
In-Person or Livestream Passes
And, I have a special discount code for you! 10% off either In Person or Livestream passes. The discount is only available for a limited time, so NOW is your luminous opportunity. 
If you're joining us online, that takes the price to under $197.
And, if you're able to be with us in Santa Fe, it's $897 for the full 3-day in-person USE COUPON CODE: planetsark10
I am consistently passionate about creation and creative expression, about making more dreams REAL, and about mentoring writers and creators to do this too. 
I'll also be leading a FULL DAY interactive and immersive in-person workshop on Monday, Sep 25th called:  Write in the Miraculous with SARK: Accelerating Your Writing Results Through Intuition and Love
This workshop will sell out, so if you're drawn, take inspired action now. Use my special discount code: planetsark10
*Note that my day-long workshop is not available for live streaming, and is the only day-long workshop I'm teaching live in 2023. 
You'll be immersed in an intimate haven of writing miracles as I guide you—I'll be your ultimate activator, catalyst, and magical mentor! 
I'll lead you through the innovative, highly effective processes and methods I've used to produce 19 bestselling books, my current transformational, life-changing programs, and significant writing results for clients in my private mentoring practice. 
I'll be SO inspired to see you in Succulent Santa Fe or via live broadcast in September. Let me know if you'll be attending!