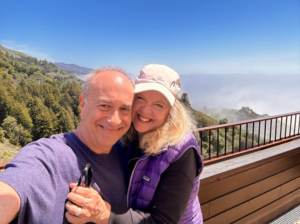 Here's my darling husband David and I recently playing together in Big Sur. You may know that we are enjoying having an infinite series of "Tiny Weddings" rather than one big one.
We call it Tiny Weddings, Big Love.
It's absolutely glorious and so much fun to keep getting married! We got legally married September 30, 2022, and have had 11 Tiny Weddings since then, and plan to have many many more.
We met 5 years ago today on the phone after he called my Inspiration Line and left a remarkable message, and I called him back.
Happy anniversary of love to my dearest David! Thank you for being my perfect playmate on an eternal playdate. And thank you for loving the world with me, and doing your deep transformative work, as I do mine.
Isn't it wonder-FULL how life keeps giving us more opportunities to LOVE?
What kinds of opportunities to love are you noticing? Let us know, we'll love to be inspired. Sending you quantum love in all ways.
Love,
SARK
p.s. you can call us on the Inspiration Line at 415 546 3742. Freely offered 25 hours a day:-)