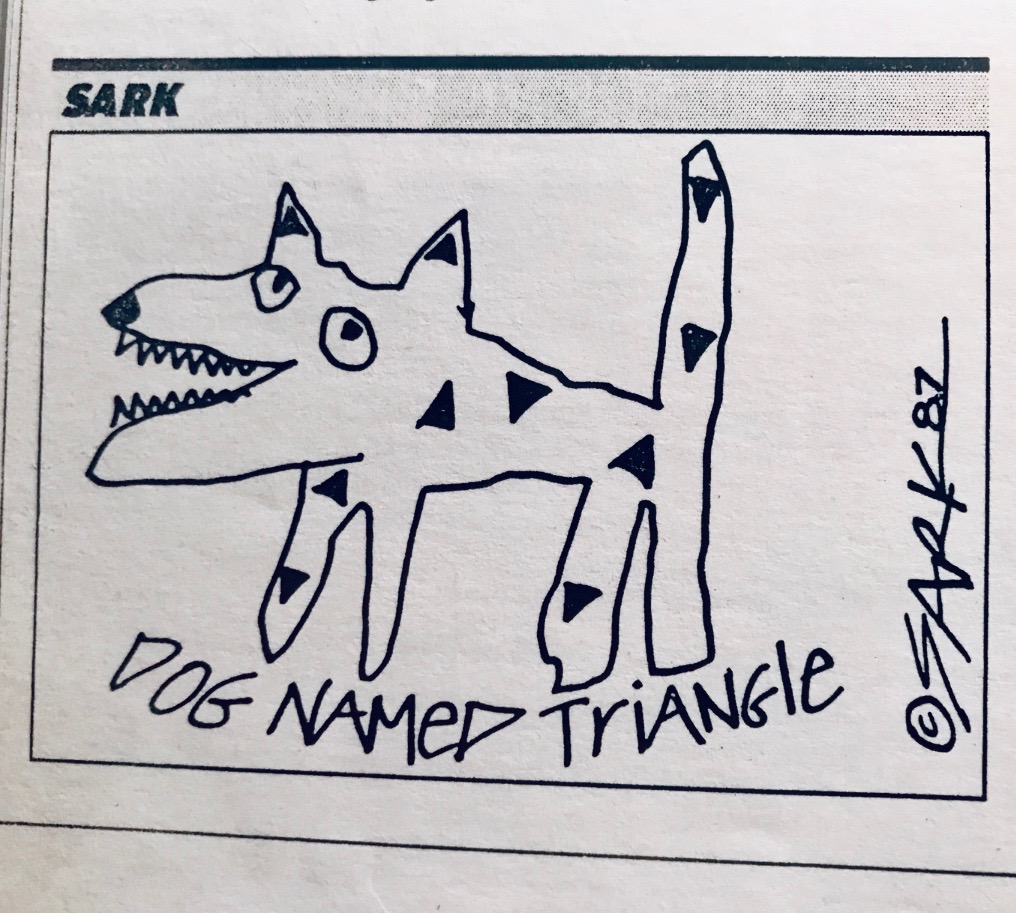 33 years ago, I published this art in the San Francisco Chronicle newspaper. It's now one of my beloved David's favorite pieces of SARK art, and says it just makes him laugh every time he sees it. The newspaper called this art that I did cartoons, and I just called them SARK. 
I had drawn a lot of art when I was living in the Victorian Hotel of Arts and Music, during my decade of voluntarily opting out of the money system and living on barter and trade. I was trading my art for my room in the hotel.
I took this mismatched stack of my art pages to the newspaper to see if they might want to publish some, and went off on a little adventure to Big Sur, with an eccentric artist who wanted to hear my stories in exchange for a ride.
When I returned, there were messages for me saying they wanted to publish me every week! It felt like a real miracle.
It was the first money I'd made from my art. It was just $25 per drawing, but it literally meant the world to me, and I started doing even more art.
Soon the art I was doing was larger than the room in the hotel I was living in, and I knew I needed to find a new place to live.
Without any money other than the $25 I was making per drawing, this was going to be a challenge to create.
How has your creativity served you with challenges in your life? What have you been able to create out of "thin air?" Let me know.
I created an ad to place in the local free paper that said, "Incredible housesitter seeks incredible house."
The woman taking my ad said, "That's a terrible ad- you'll never find somewhere to live that way!"
I secretly thought she was probably right, but said, "What's your name? I'm going to let you know when I find something."
After several days, I hadn't heard anything and started thinking she'd been right.
Then I received a call from a woman who said, "I have a mansion on Russian Hill, and I need someone to live in it until it sells." Then she said, "But I'm looking for an artist. Are you an artist?"
When I told her that I was, she replied,
"Oh good! I've interviewed 100 artists so far, and none of them have been right. I hope you're the right one."
I borrowed a cartoon size beret, and got a white shirt and splashed paint all over it, and arrived at her mansion at the appointed time. 
She creaked open the garden gate and peered out, saying exuberantly, "Oh you're an artist! Come in!"
I entered to find that she was living with dozens of cats and began to realize why the other artists might not have worked out. I asked where the cats were going to be when she moved away, and she informed me that all the cats were going with her, and handed me the key to the mansion.
I moved in the next day. The mansion had wood floors and marble bathrooms and a garden, and room to do my art. I called the woman at the newspaper who had taken the ad, and told her what I had found, and she tried to be my roommate.
I politely declined.
I lived in that mansion for 2 years, and that's another story!
I love to read stories about people creating and living their miracles. Reply in the comments if you'd like me to read yours.
Love,