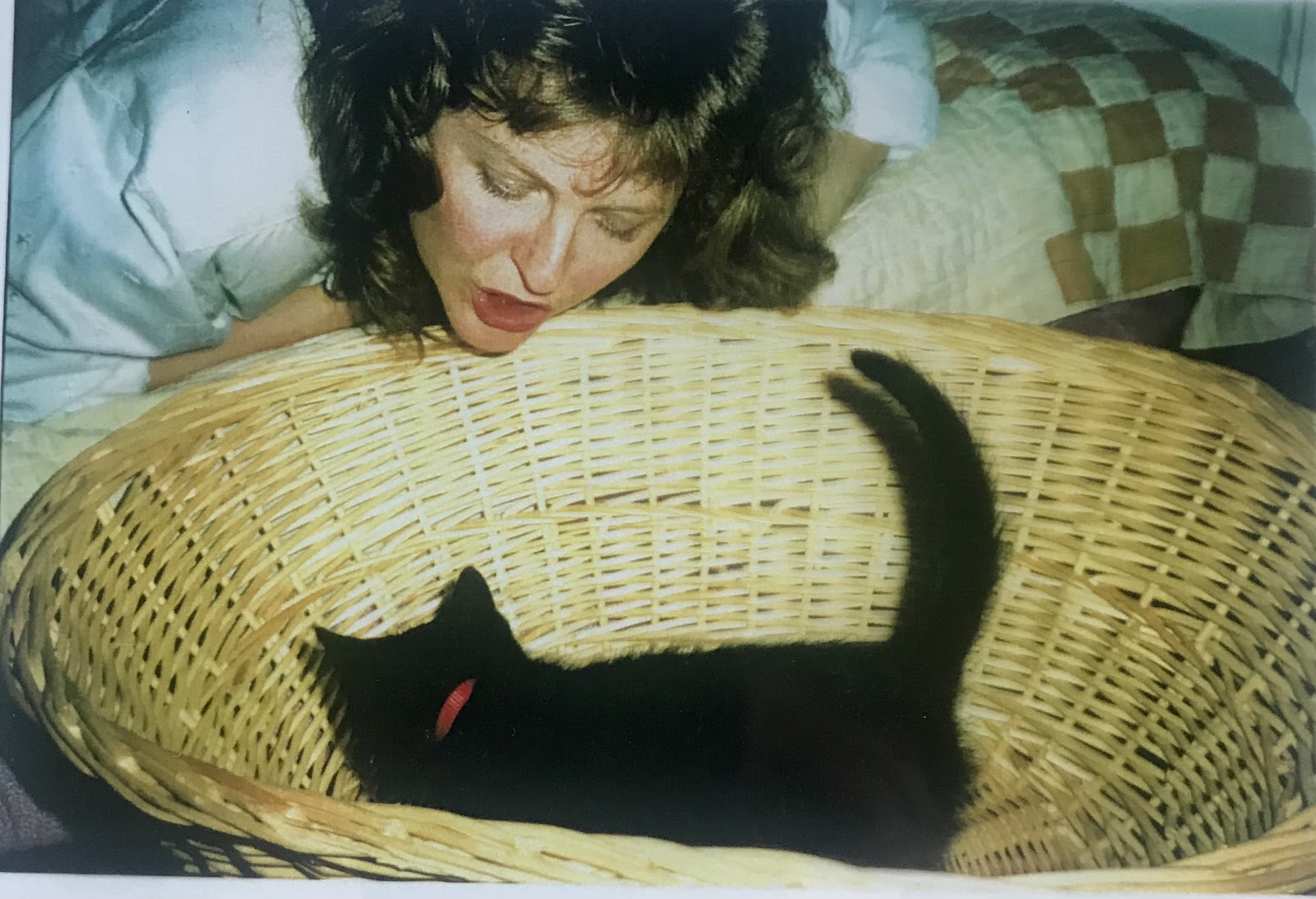 One of my very best love mentors ever was and is my big black cat Jupiter, who lived and loved with me for 17 years.
I called him my "fur husband" and he slept with me every night – and part of each day as I was completely nocturnal at that time in my life.
Here we are in my Magic Cottage in San Francisco in the beginnings of our lives together.
I found Jupiter in the window of a department store in San Francisco called Gumps. He was part of a Victorian scene to promote adoption – having been rescued by the SPCA.
I had never had a cat, and had been taught to fear them by my mother who loved animals – especially dogs- but felt that cats couldn't be controlled – and that all must be controlled 😉
 When I moved into the Magic Cottage I had just ended a long love relationship and felt lonely.
 Jupiter was not only an antidote to my loneliness, he was my unconditional love teacher, as I believe all animals are.
He mentored me deeply in the ways of love and loving, and showed me that love is infinite and extraordinary, and that all my fears were ordinary and couldn't be trusted to guide my life.
 Jupiter and his extraordinarily loving ways helped me to create a life that was made of love, and I let that guide me.
 And so when the time came for his physical life to end, I was able to feel all the pain, all the loss and sorrow that were contained within that love, and let love lead in that ending, which immediately became a beginning.
 I took care of Jupiter for 9 months before he died in my arms. The unconditional love I experienced through his mentoring allowed me to practice next with people, and I created such great love relationships as a result.
 After Jupiter left, he became a magnificent spirit guide for me, and that continues in all sorts of ways.
 When I met John in 2012, he said,
"I'm your Jupiter now. Not to replace him, but to join him in loving you."
I immediately exclaimed, " I hope that doesn't mean you're going to die!"
 Thankfully he didn't die then.
John and I lived 4 more happy years together before his dying in my arms in 2016, after I'd taken care of him for 9 months.
 I met David in 2018, and Jupiter's love mentoring helped me to keep my heart open and allow that great love IN after I'd tried to close my heart to love again.
 David & I are wildly creating and multiplying love in the world with each other, and to share.
 Do you have, or have you had animal love mentors?
I'd love to see a photo and read your words.
Love,