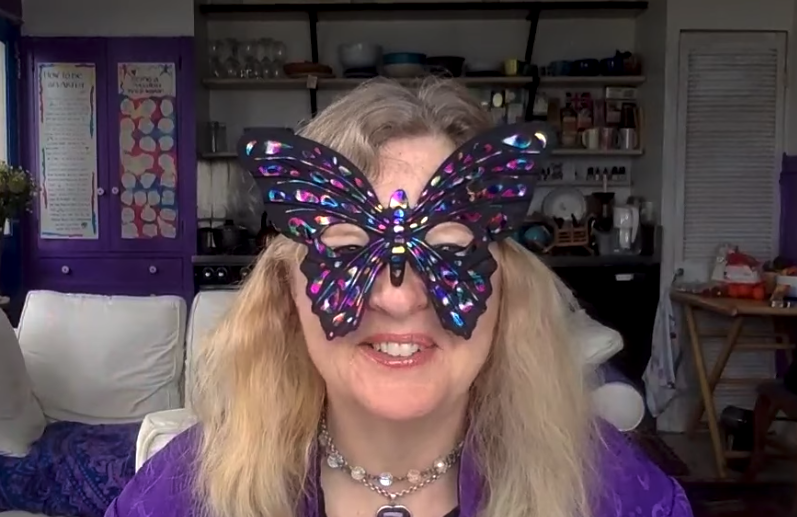 I love dreams and I love connecting or reconnecting people with their dreams or reconnecting people with their dreams. One of the very best ways to accelerate the process of making your dreams REAL, is to surround yourself with like hearted people living and playing the way you do, or want to be doing. I'm so excited to offer you a way to do that!
I first created a membership in 1998, in the earlier days of the internet and before Facebook(gasp!).
I created a free online home called SARK's Marvelous Message Board, and 4,000 people gathered there to support each other's lives and creations. Many became friends in real life, married, and utilized the internet for creating more community.
Having and hosting this free resource also taught me that people value what they invest in, and I knew that my next offering would be at a cost accessible investment.
I always dreamed of creating a way for people to practice and play together in a more focused, committed way- utilizing the internet specifically for building emotional intimacy and personal growth with all the teachings from my 18 bestselling books and ways of being and mentoring from my 30+ years of being SARK.
Fast forward to now, and over a year ago, I created and started offering that program and community of my dreams.
It's called:

Succulent Wild World: Live Your REAL Dream Life With SARK.
If you join before midnight tonight, Friday/29th as a Happy Early Bird, you'll also receive my: Journal to Joy – an 80 page full color digital journal designed to help and support you in your JOY + Creative Expansions. The transformational art and practices in this journal will change, uplift, and inspire you.
REAL as in how you are right now- in the marvelous messy middle of your life- blending and alchemizing the wonderfull and terrible things into a brand new healing mixture.
It's one of my favorite things I've ever participated in creating. You may know that I experience spirit creating through me, so full credit goes to that source:-)
We are so glad to have hundreds of succulent souls from 50 states and 21 countries. Happy members are growing and learning together, and creating new kinds of consciousness, deeply supporting and being supported by others, creating books, businesses and other offerings, and learning new self care and love skills through play and having FUN.
It's a home with no homework.
There's a whole buffet of options to play and practice with and a robust library of video class recordings, guided colorfull written content and fun prompts. There are optional "dessert" times to gather with other marvelous members after our twice monthly mentoring sessions on video with me, and a whole radiant assortment of other features and benefits- which by the way spells FAB.
And I'm so glad to be able to offer my Magical Mentoring so cost effectively to more people! Out of everything I've ever done, it's mentoring that has helped me create and build my whole wonderfull life into what it is today, and I'm so glad to be able to mentor others now too.
I have a small private Magical Mentoring practice, where I work one to one with a small number of people, and of course it's a significant investment to work in that way with me, and spots rarely open up.
For mentoring with me in Succulent Wild World, it's just $20 a month or $149 a year!! We're also offering a 2 payment plan for annual memberships, which is 2 monthly payments of $85! And this price is just for the GLEAMING reopening. The cost will rise after April 2.
I'm so glad to say that those costs go towards my creating new content- for example, I write an inspiring guided book that you can use in your life each month! And of course we have exceptional customer service and the best members ever!
Plus for members, there are deep discounts on other SARK programs & reTREATS for members and Glorious Guest teachers who mentor alongside me.
Teachers and mentors like my publisher Marc Allen, artist and author Brian Andreas, Wake Up Call Coach & bestselling author Amy Ahlers, Illuminated Liberator Danielle LaPorte, artist, poet and activist Shiloh Sophia McCloud and a whole frisky bunch of others! It's a glorious way to all play and learn together.
I like to think of Succulent Wild World as a powerfull playground for people who like to make waves, and then create new ways and waves to live their REAL dream lives- together. And it's even easier to do that in community with other kindred spirits.
Here's a favorite note ? I just received about it:
"I've been in this group just a little over 12 hours and to see a post like yours is so heart opening. I Love knowing that each share in this Succulent Wild World playground will be infused with love is super delight-filled. It's so fun to practice this uber appreciation, so that it just squeezes out of me as I walk through the world. So thank you…Thank you…Thank you."
~Maria R
You are most delightfully invited to join me and all the wave-makers! Come and play.
Here's what member Arnold M. had to say:
"SARK (Susan Ariel Rainbow Kennedy) It's True! You ARE Your Posters Come To Life! 🙂 That's the Best Description of this Community I have heard yet! First you made Posters for People to see. Then you wrote books for people to read. Then you made Blankets so that people could wrap themselves up in your words and relax into them! And now we get to Live your Words and Take Action… It's like a kid having heard about The Polar Express and then the train suddenly pulls into their front yard! "
"ALL ABOARD…"
You can experience what it's like in Succulent Wild World with a recording of an uncommon video class about dreams that I taught in Succulent Wild World on Wednesday~ It's available until Sun/30th at midnight! Go here to watch!
p.s. you'll receive a recording of this video class when you sign up too. Here's to all the MAGIC.