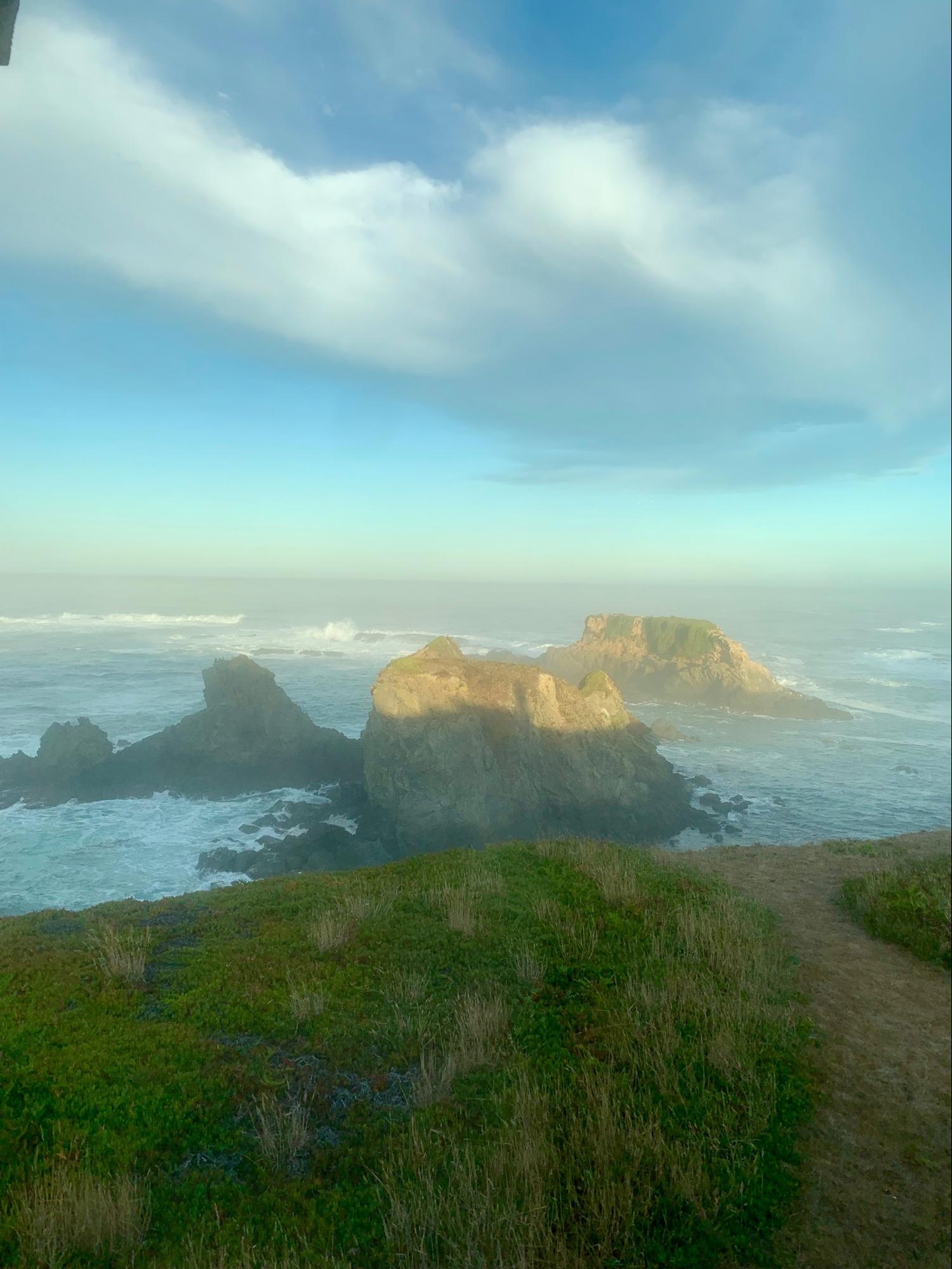 I live and teach in what I describe as the Marvelous Messy Middle– it's where I welcome ALL the feelings in my emotional family, appreciate all the marvelous, hang out pretty happily in the middle, and allow and accept the messy- sometimes very messy. 
David & I just returned from a week in Mendocino on a private creative visioning retreat. 
Being there is like living inside of a painting, and sets the stage for all sorts of creative outbursts and inflows. 
In the middle of our week, seemingly out of nowhere, I began experiencing significant pain in one of my teeth. 
This did not feel at all welcome- especially in the middle of our glorious time. Very messy indeed. 
Yet here was my darling tooth, calling out for help. Pain is a great motivator, and love is an even better one. 
I found a loving oral surgeon, and with the help of some medication and homeopathics, was able to delay having a necessary procedure until our return home several days later. I felt so relieved and gratefull that we could stay to complete our visioning time. 
Do you relate to what I describe as the Marvelous Messy Middle? And what's your version? 
We returned home and I was scheduled to have dental surgery the next day. 
All my different feelings then showed up- fear, dread, despair, rage, resistance and just general upset. 
I finally realized that my inner children all wanted to express their feelings, so I encouraged them to stomp around the house shouting things like, "It's not fair!" "I'm not going and you can't make me!" 
Thankfully I know how to welcome and love these aspects of myself, as well as others, and know that their expression makes way for me to be able to bring my marvelous messy middle adult self more whole heartedly to experiences like dental surgery, IRS audits, DMV's, and all the other life stuff that is not characteristically thought of as marvelous. 
I appreciate being able to blend and alchemize the terrible and wonderfull things into a brand new healing mixture. 
And I'm so glad to be able to teach and share what I know about living and playing in these ways. 
And the surgery? In addition to his doing an excellent job, I was laughing during it, as was he, because the Pandora station I chose was playing 70's music that correlated perfectly to what was happening- like "Dust in the Wind- all we are is dust in the wind….." 
I'm gratefull to be pain free and experiencing better dental health than I was before- and there is always more to learn! 
Let me know how you're living and playing, I'll love to hear. 
Love,
P.S. My Succulent Wild World membership and program is reopening in October and you're invited! Go here to be on my priority list and receive more information~
Subscribe To Receive SARKS: Printable MAGICAL MAP ACTIVATOR + KEY

The EASY way to magically bring you back to creative focus, over and over again!

Add your name & email to download the Printable PDF. You'll also receive SARK's weekly Living Inspired Today letter!
Add your musings or good thoughts here:
responses so far (what you share will be loved and appreciated)