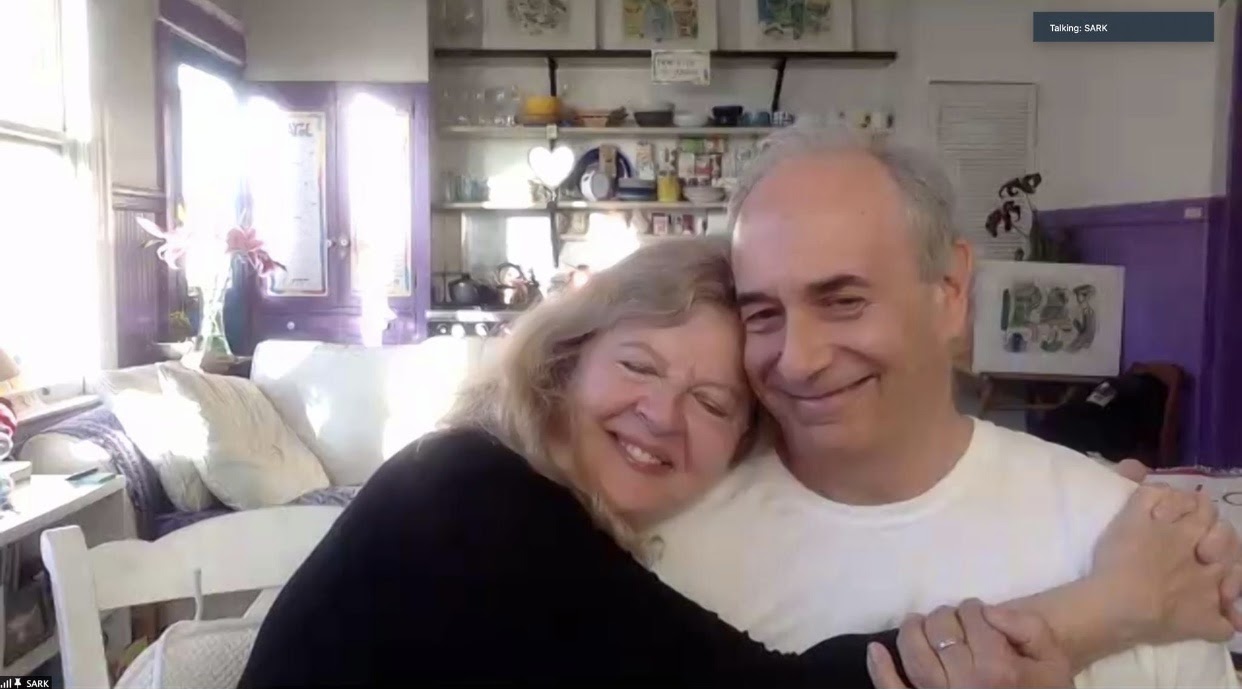 Today is our 3 year anniversary, and this is a photo of David and I teaching together in the graduating class of a membership called Succulent Wild World. It was the last class of a wonderfull 4 year program and membership that I led.
For me, it captures our love vibration perfectly. Thank you Linda Kroll for the photo. And thank you to every graduating member of this membership, and every reader of my Magic Blog- AND, we're creating something new, to which you will all be invited.
This was at the end of class, and I was swooning with my eyes closed over something one of the members had said, or perhaps something David said- it all blends together with remarkable souls.
David taught a segment called "Signs of Love" where he uses signs that he makes and puts up, to reorient his thinking and his actions. It's extremely effective.
One of his signs I've worked with is
"I Love Letting Go."
David first created this sign when his kids were moving out of the house, and he didn't want them to go.
So he made and put up that sign to see if he could practice loving letting go. It didn't mean he liked it- he didn't- but could he learn to love it? And with lots of practice, he eventually did.
As I started practicing with this message, all I could see were examples of my not loving letting go. David said that he saw lots of examples of my loving letting go, and gave examples. I hadn't seen it that way- I would have told you that I disliked letting go, and cling onto everything to try to avoid letting go.
But I hadn't seen it through the eyes of love- and that everything I've let go of is because of love- and to make room for the new, and for more love. It's like practicing fast magic 😉
You may know that I created words to support this:
"The opposite of old is not young.
The opposite of old is new.
As long as we can experience the new, we will gloriously inhabit all of the ages that we are, and welcome all of the dreams that we have"
What are you practicing, or can you practice, loving letting go of? What's NEW in your life?
Let me know. I'm practicing every day.
Love,