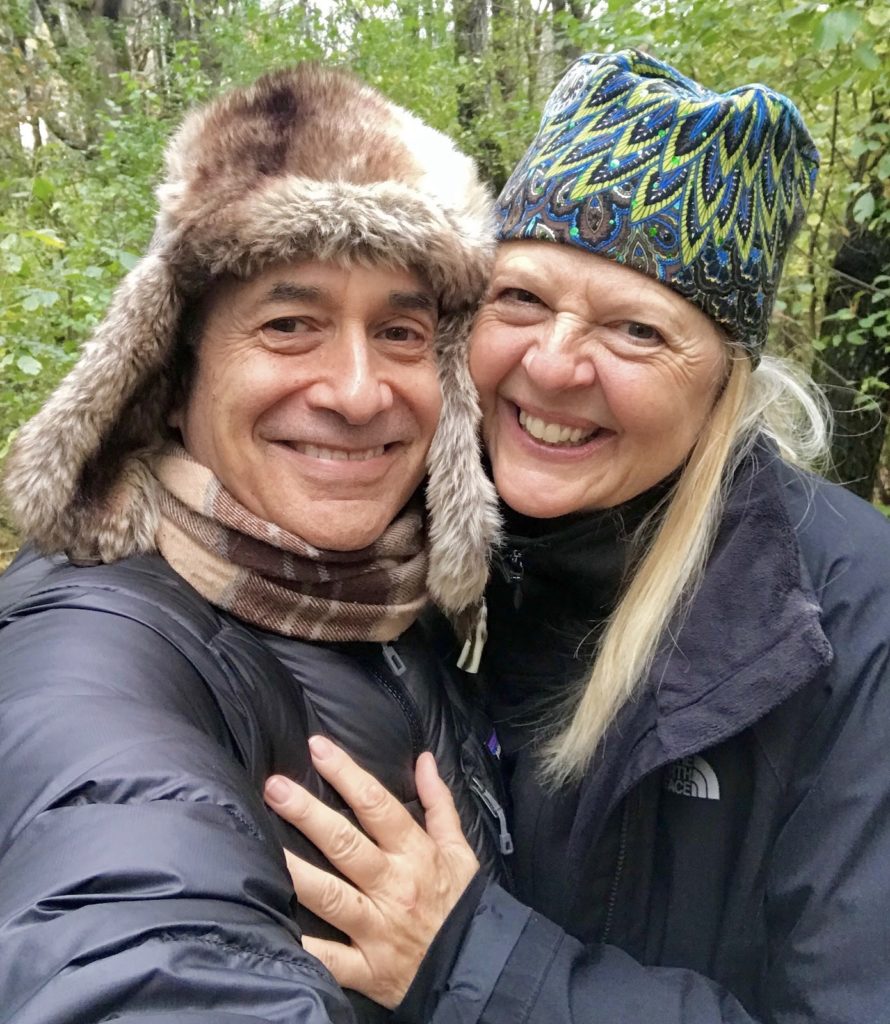 I've just returned from spiritual honeymoon #2 with David, and am feeling more filled up with love than ever.
I'm also feeling more afraid of love than ever. I'm afraid of losing this incredible love, now that I've found it.
I'm sure this fear is to be expected, having experienced my fiancé John dying in my arms 2 1/2 years ago. How dare I return to love and loving again after THAT?
And what if THAT happens again? Which of course death WILL, one day- to both of us.
And of course this loving relationship could also end because one or both of us needs it to- for some unknowable to us now- reason or reasons.
It's all SO RISKY.
Yet love moves on, like life does- growing, unfolding and calling us forward- in the midst of it all. And even when we're afraid.
And how can I feel both of these- wanting love and fearing love- so fully?
I believe it is because we DO contain multitudes- and all of these multitudes are made up of love- in one form or another.
Love is a mighty muscle, and I'm choosing to practice strengthening it every day.
I met David's parents and family on this trip, and it was a complete love festival- I'm honoring their privacy by not sharing photos of us- and picture this: deep resonant talks and soul sharing, mutual appreciating of David, and being welcomed heartFULLY into their family, and of course a lot of laughter born of kindred spirits.
I'm feeling so incredibly blessed by all of this new love flowing in.
While David and I were walking in the woods in Vermont, I slipped and fell down really hard on a wooden bridge that was covered in leaves after it had rained, making it extremely slippery.
I had cracked my elbow and burst into tears, and laid there trying to assess the damage. David leaned over me asking what he could do, and I replied, "Just let me lie here until I see how bad it is."
He listened intently and then sank to the ground on the wet bridge and laid down next to me, and held my hand.
It was a complete offering of love, and exactly what I needed.
We laid there for a few moments, then rose up and thankfully I was completely fine. And after applying topical homeopathic Arnica to my elbow every 10 minutes, we were glad to discover that I experienced no bruising, swelling or pain. Arnica supports my mighty love muscles:-) in addition to David.
Experiencing this kind of soul union with David is such a beatific blessing of love.
This multiplying of love and adventurous journey is now my honor and privilege to share with you, and with the world.
Spiritual honeymoon #3 is planned for December at my home in San Francisco, and I'll be sharing that with you too.
Let me know how love is growing and multiplying or being nurtured in your life- I'll love to read about it.
And if you're feeling any lack of love, please accept a lavish offering of love from me right now.
I found a powerfull journal entry from July 2016 about how mightily love goes on- I wrote it just 5 months after John left.
Here I am in November of 2018, mightily in love and loving life with David, looking back at how I allowed love IN again after such a tremendous loss. I'm so inspired by the capacity of the human heart, and of love itself, and for you, my dear loving readers, whose comments of love, appreciation, and support truly illuminate my heart.
~~~~~~~~~~~
July 2016

I've realized in these last 5 months that I am living a lot of people's worst fear.
My beloved fiancé died.
I am here to say that it's the most horrifying despair filled thing I have ever experienced, and it's still happening as I navigate my grief journey.
Yet I want to also say that it's not that bad. That might sound crazy based on the sentences I just wrote before this.
Let me explain.
This was one of my worst fears my whole life- what if I ever truly loved someone and then they just died? My other big fear was that they would need me to take care of them, and that I wouldn't be able to, or want to. I was the primary caregiver for John for 9 months, and he died in my arms.
John, (and angelic others) helped me live through both of my absolute worst fears, and he loved me all the way through, as I loved him. This has changed me forever.
I also now know that his death was perfect-for him.
Not my preference at all. I would have done just about anything to save him. Until I finally learned that he didn't need saving- his spiritual journey was about releasing his body, not keeping it.
I thought previously that if something like this illness and death ever happened to me and to someone I loved, that it would be like an unrelenting slab of endless pain crushing me constantly.
It both was and is not.
It is a giant mystery wrapped in an infinite number of enigmas.
It is a seemingly simple equation.
There were 2 and now there is 1.
Because I contain multitudes and so does John, the actual equation is much more interesting.
The nature of love multiplies beyond counting- especially when we allow it.
Who I am now, is exponentially greater and more love filled since the physical loss of John.
This loss is not diminishing my light, it is refilling it beyond anything I ever imagined.
I'm communicating with John daily in the spiritual realms, and I'm learning his vibrational language more and more.
What I thought was the "unrelenting slab of endless pain crushing me constantly" is much more varied and full of life than I previously knew.
There are feelings of relief, great humor, indelible kindness, exquisite tenderness, mixed in with despair, self torturing thoughts, pure physical missing, wailing in the bathtub, falling to the ground in agony and living with the physical absence of him in every instant.
And still, it's not that bad.
There's so much love and life beyond the loss.
Because of the expanded love I feel, I'm grieving deeply and living wildly both- like bird wings. This has filled me up with pure love beyond understanding.
I really thought that I might just die when John died, and in some ways I did.
I died to the majority of the unhealthy ways I'd previously been working, in addition to avoiding conflict and eating too much sugar to try to sedate my feelings. I died to sacrificing and compromising in ways that I hadn't even recognized before John got sick.
I lived to "get happier than I've ever been" which John directed me to do when I asked him how I could possibly go on without him.
I lived to allow the possibility of love to bloom again in my life, which John also radiantly urged me to do.
I lived for a new way of working which feels so incredibly nourishing. I lived to be even more of myself than I ever was, and to be even more life loving than EVER.
I lived to experience love way way beyond the physical realm and communicate about it to others.
I've always been someone who "saw" what others didn't, and John is further changing all my paradigms. I'm called to share with other kindred spirits who might resonate. It's okay with me if you don't. I'm used to being thought of as unusual;-)
I do feel immeasurably sad that John died. I also feel certain that it's not a sad ending to a happy love story- it's a living love story still being written and lived full out, as John did and does- now from his interdimensional playground.
I'm living and loving life more fully and deeply because of this loss, instead of despite it.
I've had so many experiences of John's beyond the physical communications to me- here's a recent one:
He asked me if I'd like to know what he looks like now, and I replied that I would. He told me to go to my weather app on my phone and there would be an image there. When I opened the app, the weather information had been erased, and the image with this post is what remained- John in his new "look."
I'm

smitten.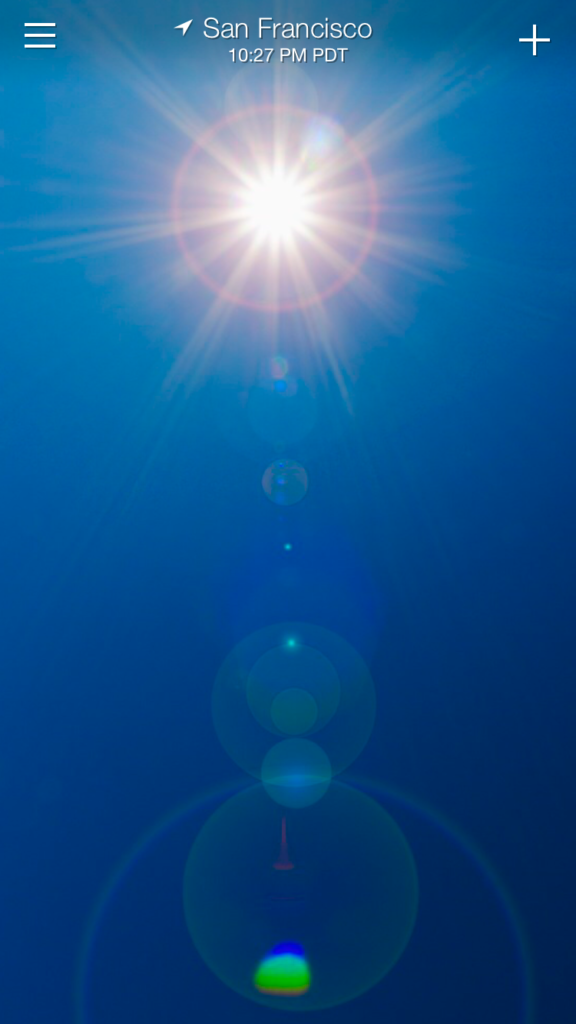 Here's to all of us living and loving in the midst of destruction and fears, moving forward in faith- which is the willingness to move without proof- and find ourselves faithfully loving all-ways.
Love,
S

A

R

K
[thrive_leads id='11747′]