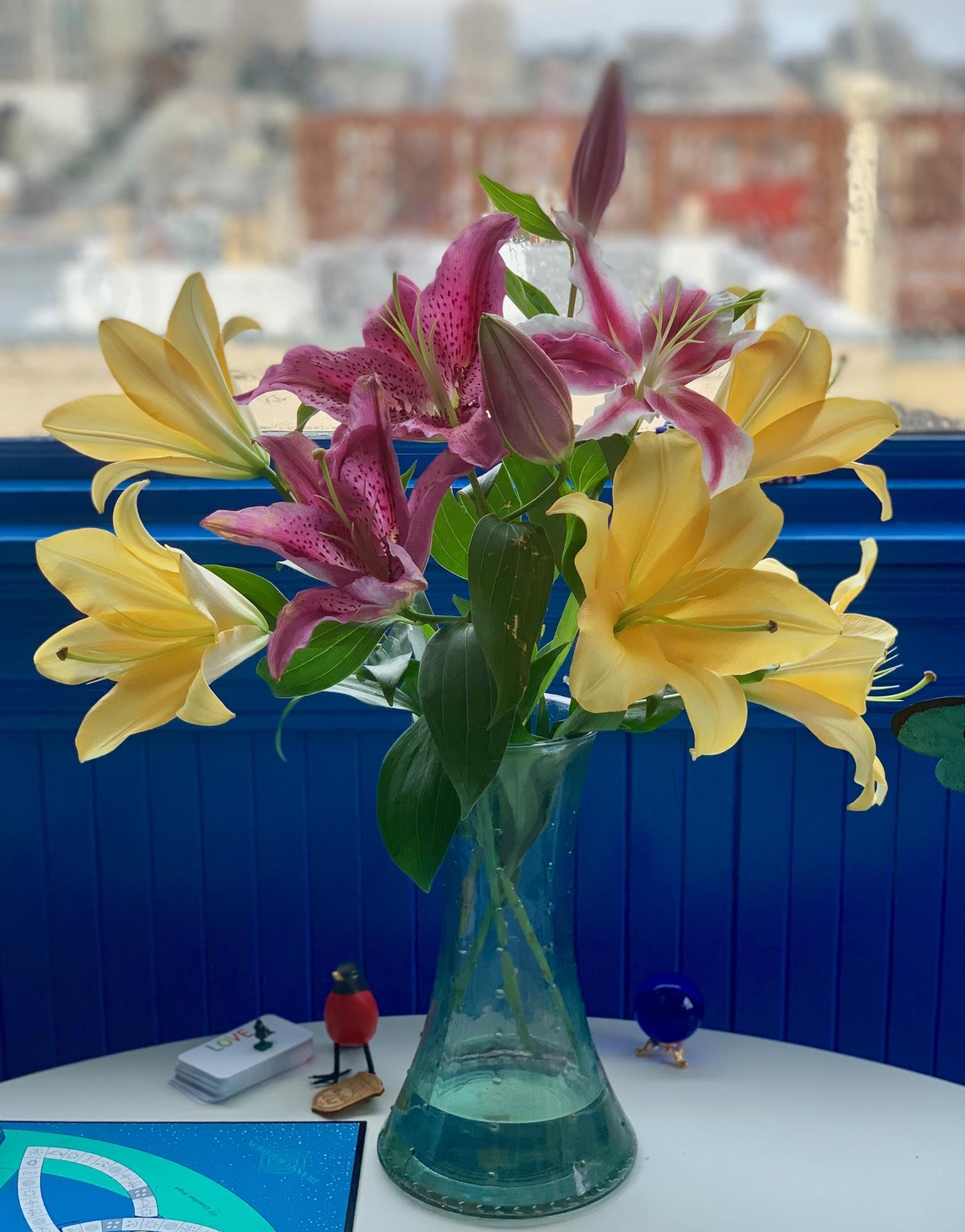 After my fiancé John died 3 years ago, a lovely soul wrote to me with her condolences and said, 
"I hope your house is filled with flowers and that you are dancing every day." 
Her note made me swoon with longing. 
At that time, the house was filled with flowers, but I wasn't yet dancing. I couldn't imagine then how I ever would again. 
Now there are both flowers and dancing and so much more.
My beloved David took this portrait of the flowers on our table with a peek of the Transformation Game board, which we play avidly and frequently. It's a game about the way you play your life. 
I believe that our lives are delivered along with dreams, and that we are filled with them as we live. Many people aren't living their dreams because they don't know "how." 
We can become overstuffed with things and practicalities and the survival stuff of life. 
People wait for more time to appear, or someone to show them how. Neither of these works well, because neither of those conditions matter to the dream.
And, the soul of the dream isn't being seen or known. 
Meanwhile, a deep undercurrent of desire for our dreams being made REAL runs. I appreciate this quote by the author Julia Cameron: 
"Dreams don't go away. If we do not tend to them, they go to our grave with us. They do not go away. At 80, if you wanted to write a novel at 20, you will still be carrying that unborn novel with you. People intuitively know this. "
-Julia Cameron
It can feel scary to live more of our real dream lives- it can feel like there are so many obstacles and oppositions. 
In 1998, long before Facebook(!) I created something called the Marvelous Message Board. 4,000 souls embarked on a journey of conscious community together, with people creating their dreams, and helping others to create theirs. 

It was a resounding success of dreams being made real and I didn't have the business infrastructure to continue maintaining it, and I made mistakes in how it was being managed. I didn't know then how important boundaries were- especially on the internet. I learned tough lessons and received a strong education. I so wished that the Marvelous Message Board membership could have continued working and growing. I'm so glad for all the souls who experienced it and received so much goodness. 
Over the next decade, I went on to write more books, develop my main core teachings and I still dreamed about creating a new kind of membership community that would really work for people- and after that last experience, I felt so scared that it wouldn't work. 
Still, the dream persisted. 
In November of 2017, I was called to create that dream again- a loving and creative community who could learn and create and grow together. I named it Succulent Wild World: Live Your REAL Dream Life with SARK. 
Now it's really working! 
A whole community of vibrant souls who love and support each other in living their REAL dream lives. We live in what can be described as the Marvelous Messy Middle, with all of the feelings in our emotional families, and practice with the substantial tools and processes that I've developed in over 30 years of doing business and life living. 
It's all carefully guided and curated, and the results are substantial. People are writing and publishing their books, finding their purposes, creating new ways of living, experiencing more love and creativity, and connecting with other members- beyond online. 
I teach video classes and mentor people in their real lives, so they can live their real dreams. 
It's FUN, it's INSPIRATIONAL and it WORKS. 
I'm reopening this Succulent Wild World membership and program in October and you'll receive an ? invitation. 
When we speak or write of our dreams, they become more visible. What's one of your dreams that is, or wants to become more visible? Let me know here.  Or let me know what you wish you were doing or dreaming- I'll encourage you. Reply and I'll read your response, and your dream will revel in being seen.
Love,
[thrive_leads id='11747′]