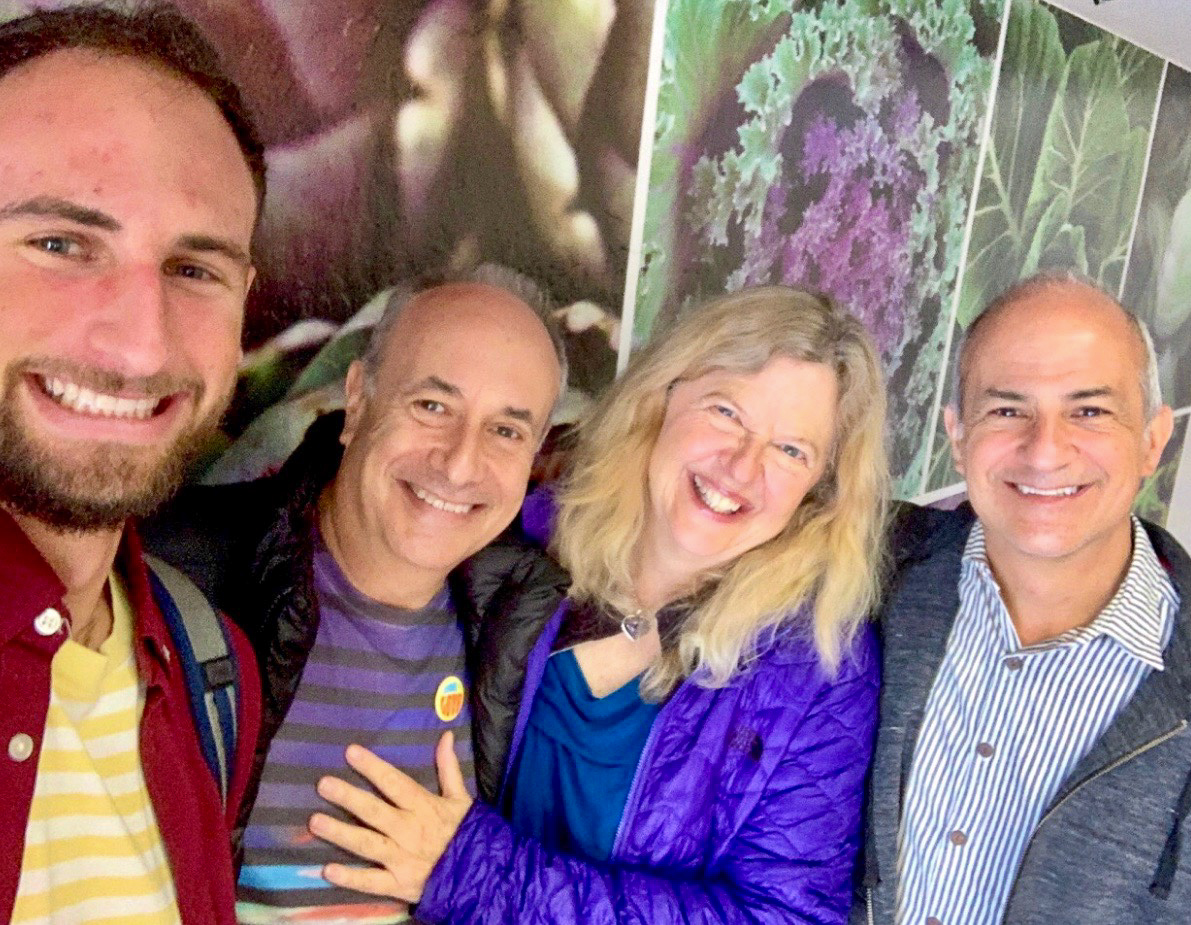 Thank you for drawing ? my attention to something I wrote last month about how loss creates opportunities for new love to grow. Here's an excerpt from what I wrote;
"The love I am able to experience with David is directly related to the both the love and the loss I experienced with John.
(For those that don't know, John was my fiancé who died.)
That loss actually generated new kinds of love. I'm convinced it's similar to how lava creates new land, and is no less tumultuous in its process of arrival.
I'd always heard "love never dies" and it baffled me, because how could it go on if the source of it had ended?
Now I believe and know that it's because love doesn't only arise from a source- love comes through a source. And in that way, there is truly no end."
It's remarkable to me that last year at this time, I hadn't yet met my beloved David, or his son Ben or brother Andy. Here we are last week with Ben at his chiropractic graduate school, sharing love- "like lava creating new land." These 3 men are healers, creating more love whenever they go. I'm honored to know and love them, and participate in our neverending love story.
Life is amazing like that. And so is faith.
We keep moving and growing despite all the evidence that has us believing that things are getting worse.
And of course, some things are terrible and getting worse. I remain convinced that our ability to alchemize and blend those terrible things into a new healing mixture, is our greatest opportunity as humans. So how do we actually do that?
How do we do that kind of blending and alchemizing, in the face of horrifying things?
Here's a process I created for a book I'm writing called Living Wonderfull; The Surprising Gifts of Terrible Things.
It's called Inner Alchemy. Use this process to blend and alchemize any terrible thing. This includes doing the important work of allowing certain things to remain terrible.
The Inner Alchemy Process by SARK
1. Locating and naming a terrible event or experience
Acknowledging what happened gives it a place to be, and to be worked with.
2. Identifying how you feel and acknowledging those feelings
Identifying your feelings allows inner alchemy to begin. Say the feelings out loud and say to them by name, "I see you, I hear you, I acknowledge you." This gives your feelings the love and attention they are seeking and will allow them to soften and change shape. When they've changed shape, they will move more easily.
3. Reducing the terrible
It is important to stop here if you cannot find any way right now to reduce the terrible.
It may be too soon to move from terrible. There is great value in really being with the terrible and allowing it and your feelings to just be.
If and when you are ready, move slowly towards reducing. Using gratitude and appreciation, look for something good- and it might be very tiny. Being gratefull and appreciative for any tiny thing gives space for other gratitudes and appreciations to grow.
4. Adding the wonderfull
Appreciating anything that's good multiplies the good.
And if wonderfull is too far of a stretch, see if you can move from okay to better to good and then perhaps to wonderfull- or perhaps not. Allow your feelings to guide you and don't "rush to feel better." Feeling terrible is essential to be able to welcome any wonderfull feelings. Let love surround you as you feel terrible.
5. Integrating and blending
Noticing the old and new parts of you adjusting and taking in the new information, creates more spaciousness and room for transforming.
Highlight for yourself any transformation that's already occurring. Describe yourself in new ways- how have you changed, grown or awakened? How and what do you want to be able to transform?
6. Who are you becoming as a result of this experience?
Blending the terrible and wonderfull into a brand new healing mixture you can use in your life gives you freedom to feel differently and take new actions as a result. The new actions you take will be supported by the love you've created.
Thank you for blending and alchemizing and being human, and for taking new actions.                                     
Love,
[thrive_leads id='11747′]