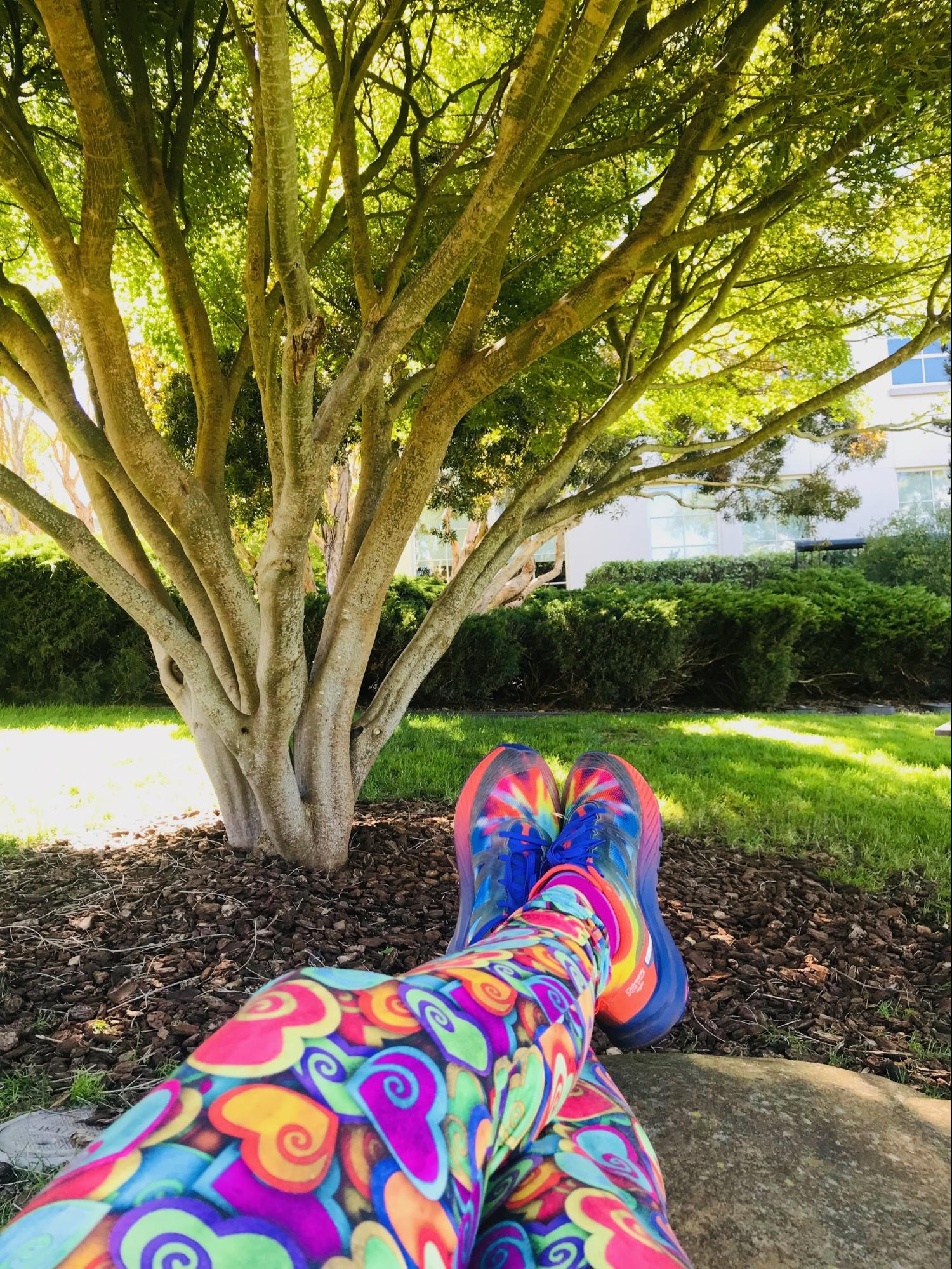 As we travel through these uncommon times, we are being asked and called to both wake up and stay awake. 
I do a lot of contemplation and learning while lying down- it's kind of a "horizontal life." Here I am in a favorite park, lying down on a flat rock under a friendly tree, while hearing the sounds of a small creek. 
The heart tights were a gift from my beloved David and the rainbow shoes a gift from my dear friends Val & Eric. 
You may have noticed I like bright colors;-) they bring buoyancy to my spirit, which then allows me to share that buoyancy. 
From this horizontal life, I gain more courage and velocity for the vertical world. 
When I wrote about Black Lives Matter and being anti-racist, that was the continuation of a lifetime of work and awareness for social justice, and a reawakening of anti-racism work. 
If you missed that, you can READ IT HERE. 
In that writing I asked, "What is Yours To Do?"
Do you know? 
Are you doing it, or starting to take actions? 
We need your particular way to move moving: 
If you're a caller, call. 
If you're a donator, donate. 
If you're a protestor, protest.
If you're a writer, write.
If you're a speaker, speak. 
If you're an artist, make art. 
If you're a singer, sing. 
If you're an organizer, organize. 
If you're a visionary, vision. 
If you're a miracle maker, make miracles. 
Whoever you are in this world, your movement and voice matters and makes a difference. 
Silence translates to violence, and we can SHIFT THAT SILENCE forever as a United States and World Collective of AWEsome Action taking instead. 
If you're hiding or resisting, or feeling overwhelmed, hopeless, enraged, helpless, tired, deflated, upset or furious, alchemize and blend those feelings into a brand new healing mixture and get and keep moving. 
I know that many of you are reading, studying, listening and watching, in order to see how you can be of use. 
I'm writing this to inspire you to also be in AWESOME ACTION- in tandem with the rest of everything that you are. 
I'm putting into practice everything I wrote about my own action taking, and it's often uncomfortable and inconvenient to set up new systems and add new processes for real change to occur, and to keep occurring. 
And it's no-thing compared to what Black people live with and face every day. And yes, we all face great difficulties- right now we're focused on the mattering and mending of Black Lives. 
You've probably heard it said that this kind of work is a marathon. 
I think that life is mostly a marathon, and we need to keep in training the whole time. 
We can't just get riled up and horrified when Black people are killed, and then fall asleep again. Or we can, and then continue to be enabling that violence. 
Nooses are yesterday.today.tomorrow being found hanging in trees. 
These nooses are symbols of killing by lynchings of Black people, which are also occurring. 
Rest as you must but don't fall back asleep. 
If you want to encourage and support change, leave a note in the comments, we will all appreciate it and you. Let me know any action you're taking and/or one that you want to recommend and inspire others to take. All types of AWESOME ACTIONS are needed. Movement is the main key to this movement of change. 
MOVEMENT is the key. Any size will do. 
Most people assign themselves things that are too large and then get overwhelmed and quit. Then inner critics start up their negative dialogue: 
"You always…" 
"You never…"
"You should…" 
"See! I knew you wouldn't…" 
If you move tinier by MicroMOVEments, you will move more often, which will gather more momentum for you to move more consistently, and keep moving. 
Use this: 
ACTION BEFORE INSPIRATION 
Even if and when you don't feel inspired to take action, move SOMEthing which will lead you to more movements. 
In my considerable research with this subject, I've found that when we can start in ANY WAY, 60% of the time we'll keep going. 
After over 30 years of writing personal growth books and inspiring people to move, here are some things I've learned and experienced. 
Read through and see where you find yourself:
Most people really want to help. 
Most people get overwhelmed. 
Most people procrastinate. 
Most people quit because they don't rest. 
Most people don't find a consistent way to keep moving in the midst of their actual life and all of its demands. 
Most people don't know where to start. 
Most people fear that what they do won't really matter in the face of so many challenges.


Here are some more locators;
Many people think that "someone else" should take care of this problem. 
Many people wish that someone would solve THEIR problems.
Many people are too tired or deflated to take action. 
Many people just don't want to move 
Many people are too busy with their own lives to do anything more.
Many people feel angry and hopeless and don't know how to manage those feelings so they can help others. 
We are all doing the best we can, and as my friend and mentor Dr. Maya Angelou said,
"I did then what I knew how to do. Now that I know better, I do better." 
Does this writing move you or make you want to move? I hope so. My purpose is to be an uplifter, transformer and laser beam of love, and we can MOVE OURSELVES WITH LOVE right now and all-ways. 
Let me know how you're doing and moving by replying here. I'll read your response. Feel free and invited to share this blog post, and thank you for being you. 
Love,