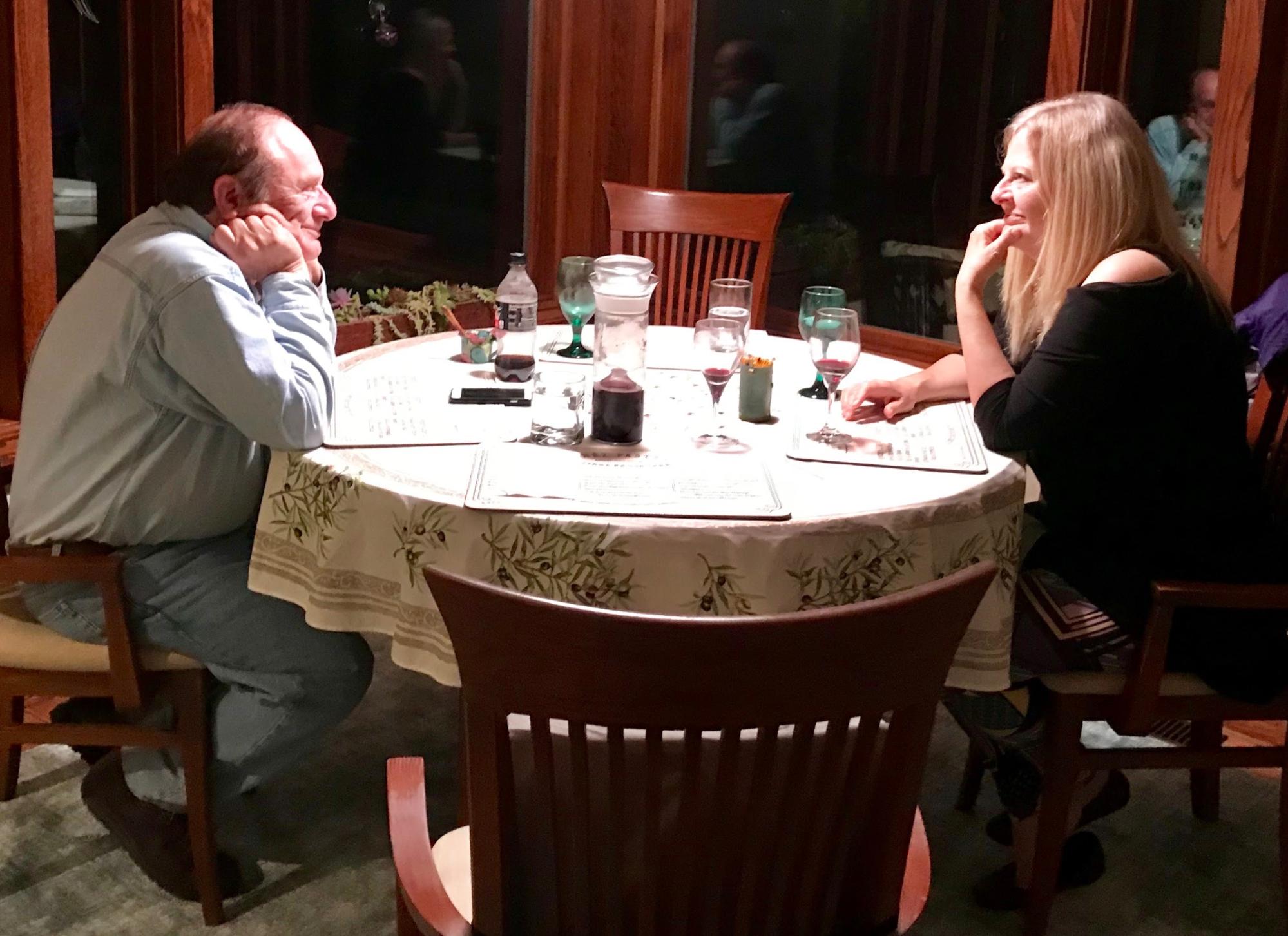 I wrote a poem for my father called:

How To Forgive Your Father, and published it in my book Succulent Wild Woman. You can read that poem below. Writing and sharing that poem helped me to forgive myself and my father, which ultimately freed me to be able to feel more love.
I believe that forgiveness is very personal and individual, and every person can decide for themselves if it's relevant to them. For me personally, forgiveness of all made more room for love, and it took a long time to get there and to feel that way.
My father and I had a rather tumultuous relationship, and after I got my first large book deal, he said,
"Good for you honey! We always knew you could do it."
And I replied,
"No you didn't! You were against me, and I almost didn't do it at all because of you. You told me I would probably end up as a homeless person and never make a living as a writer."
To his credit, after that, he told everyone that would listen;
"Don't do what we did to our daughter, by not supporting her all the way! We almost ruined her life."
He also said,
"Well honey, I don't know why people are buying these books, but I'm glad that they are! I've sold cigars all these years and that wasn't good for people. I'm glad you're selling something that is."
My father did and said so many other incredibly kind and loving things too. I'm spotlighting here how painfull and difficult these particular harmfull things were, and how being believed in is so essentially supportive for dreams to grow.
I know my dad was just scared and trying to protect me- he'd seen me get and quit 250 jobs from ages 14-26 and then drop out of the money system for almost 10 years and live mostly on barter and trade.
He didn't understand my vision and he didn't trust me.
I'm glad to say that I've forgiven him completely and we have a marvelous relationship– especially now that he's in the afterlife. We cleared up all our personality differences while he was alive, and I feel so very gratefull for being able to do that difficult forgiveness work with him while he was alive.
When I met my beloved David 2 years ago, one of the many gifts of our relationship is that he brought me a whole new family; 2 parents, 2 brothers & their partners & kids, and his own 2 amazing grown children.
It feels like a miracle to have 2 more "parents" in my life again. I never imagined that!
Barry and Arline are socially conscious, progressive, and I appreciate their abilities to express love and support in ways that I can feel.
I also feel gratefull for the ways we're able to navigate some tough stuff too, as we grow and develop as a family- we haven't just stayed on the surface of things.
Of course there's so much more to say about both of them, and I want to focus on my initial experience with Barry and share it with you on this Father's Day.
When I first met him at their home in Vermont, we sat together at their kitchen table and he was enthusiastically asking me about my books, and listening closely to my responses. I love this photograph that David surreptitiously took of us communing together at the table.
As I spoke some of my book titles out loud; Living Juicy, Eat Mangoes Naked, Transformation Soup, Inspiration Sandwich, Barry became very animated, exclaiming,
"These titles are just fabulous! The titles alone make me want to read them! How fascinating that you've assembled these kinds of words, and that you have an audience of readers- I'm so impressed."
His entirely enthusiastic response delighted my heart, and I felt uncommonly seen by him. Even though I have millions of readers, it had been so painfull not to have my dad's support with my books in the beginning, in the ways that felt most meaningfull to me. I also didn't know how to ask him for what I most wanted to hear.
This was a reparative experience for my author self, and I appreciated it and Barry so much. Thank you Barry!
Have you felt seen and supported by your father, or a father figure in your life? In what ways? Let me know in the comments. And if not, what was your experience?
Here's the poem How To Forgive Your Father, which my dad requested that I write, and that he loved so much.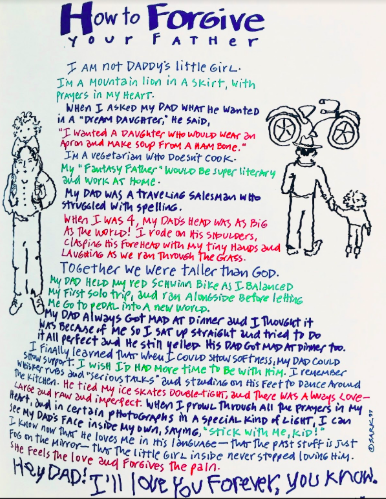 I'm not daddy's little girl.
I'm a mountain lion in a skirt with prayers in my heart.
When I asked my dad what he wanted in a "dream daughter," he said, "I wanted a daughter who would wear an apron and make soup from a ham bone."
I'm a vegetarian who doesn't cook.
My "fantasy father" would be super literary and work at home.
My father was a traveling salesman who struggled with spelling.
When I was 4, my dad's head was as big as the world! I rode on his shoulders, clasping his forehead with my tiny hands and laughing as we ran through the grass.
Together we were taller than God.
My dad held my red Schwinn bike as I balanced my first solo trip, and ran alongside before letting me go to pedal into a new world.
My dad always got mad at dinner and I thought it was because of me so I sat up straight and tried to do it all perfect and he still yelled.
His dad got mad at dinner too.
I finally learned that when I could show softness, my dad could show support. I wish I'd had more time to be with him.
I remember whisker rubs and "serious talks" and standing on his feet to dance around the kitchen.
He tied my ice skates double-tight, and there was always love- large and raw and imperfect.
When I prowl through all the prayers in my heart, and in certain photographs in a special kind of light, I can see my dad's face inside my own, saying "Stick with me kid!"
I know now that he loves me in his language– that the past stuff is just fog on the mirror- that the little girl inside never stopped loving him.
She feels the love and forgives the pain.
Hey dad! I'll love you forever you know."
After I met Barry for the first time, I knew that he might not follow through with reading one of my books- sometimes people speak with initial enthusiasm about something, and then it just kind of fizzles out. Barry had asked me which of my books I recommend that he read first- and I said, Glad No Matter What: Transforming Loss And Change Into Gift And Opportunity.
Not only did he get the book, he actually read it, and then wrote me a thoughtfull email about his experience reading the book, and what he received as a result!
This experience with Barry reminded me how we all bloom with tending, and that in his care of me and my work, I felt tended.
And of course I am consistently tending to myself, and no longer look to people reading my books for approval in the ways that I did when I was younger- it was just such a luscious and unexpected surprise to have this kind of "dad do over" experience with Barry, and at this time in my life.
I'm also so thankfull for all the many ways my own father was able to lovingly support me and show up.
And let's acknowledge all the men in this world who are able to love and show their support as fathers, or father figures.
I'm so glad for daughters and sons who can speak directly and clearly about the kinds of ways that love gets in, and how that love is able to be felt by them.
My wish is that we all learn and practice how love feels best for us to receive, and directly let our fathers know it – and find alternate fathers, or learn how to have our "inner father" show us love.
And if your father has departed, consider communicating with him now, and practice forgiveness* if you want to.
*note that I believe that forgiveness work is very personal and individual, and better if not forced or made into any kind of tyranny. It is not "better" to forgive, if in the doing of it, you make yourself "wrong" in any way. There is so much room for growth with love.
Love,