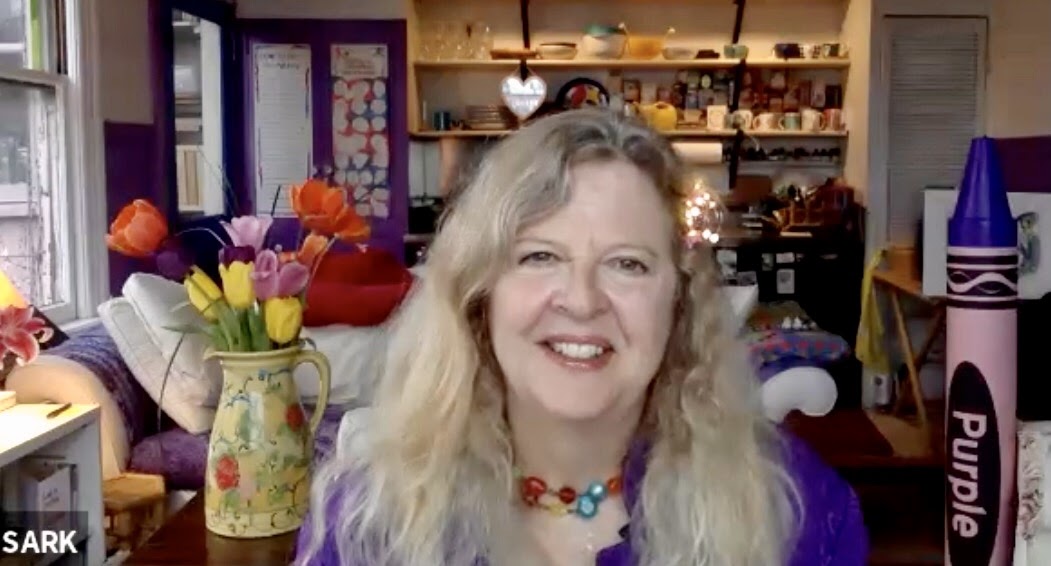 I've been loving zoom teaching since 2010, and since last year, I've zoomed more than ever. Representing the spirit of SARK is my full time gift and privilege. 
You will notice a lot going on in this photo of my screen from a few months ago.
My smile, a giant purple crayon, bright tulips in a festive vase, a juicy looking necklace, twinkly lights in my hair and a heart mirror above my head on the left. 
To the left of that heart are two SARK posters: How To Be An Artist and Being A Succulent Wild Woman. 
These are some of my many forms of offering love to you in this world – I'm committed to sharing love in an animated way, because it feels great to love the world as much as I can – even with VERVE and ELAN! I had to double check the definition to be sure it meant what I thought it did. 😉 
If you've read my books or posts, or read this Magic Blog for awhile, you know that I cry a lot too, and practice alchemizing and blending the wonderfull and terrible things together, into a healing mixture I can use & share. 
Since Valentine's Day is coming up – I want to invite you to live a Valentine's LIFE with me – it's where you love what is as much as possible, and do your alchemizing work to create what will be. 
I just finished the first draft of my new book: Living (Mostly) Wonderfull: The Surprising *Gifts of Terrible Things. 
*gift locating is optional. 
This book has taken me the longest to write, and I'll be editing it for awhile before it's time to share with you. Meanwhile, I'll be continuing to mentor, teach, create and share my animated love with you. 
I welcome any celebration of my first draft completion you might want to share, and I thank you! 
Love, 
p.s. I'm offering a Valentine's LIFE Self Love Special! I wanted to add more color and love to your days and nights ahead and offer you a 25% discount on all 19 SARK Art Prints + 2 SARK Card Decks. Each of these are designed to be resonant messages of LOVE. 
Enjoy this luminous opportunity and scoop up the happiness HERE. This sale is on until Sat/6th midnight Pacific.