Happy Valentine's LIFE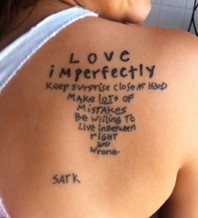 I'm inviting us all to have far more than a Valentines Day.
Have a Valentine's LIFE.
We are all lovers loving.
And since we are all perfectly imperfect, we are all lovers in that sense too.
We are all always making LOTS of mistakes in love, and it helps to keep surprise close at hand to ease the fears that can and do arise for our attention (and love.) We can surprise ourselves with our imperfect love abilities- and notice and appreciate all the times where love works well.
I so appreciate this lovely soul for tattooing my handwritten words onto her shoulder- here's to all of our darling shoulders and bodies moving with love through our Valentine's lives!
On Valentine's Day, we are reminded to love- not only in the way of lovers- in the way of practicing loving it ALL as much as we can. Yes, all of it.
Even when it's excruciating.
Even when it's boring.
Even when it's inconvenient
Which it usually is.
Love flows through it all, no matter what.
A Valentine's life is where you and your soul are known and loved, and you choose love more often than fear. Where you do the deep and necessary psychological excavations and repairs. Where you cry as easily as laughing and there's no distinction. Where you choose peace over trying to be right. Where you rise up and act for what's right. Where you lie down frequently and rest guiltlessly. Where you love wildly with all your faucets turned on.
Where you realize that you are here as much to feel as you are to heal, and that life keeps moving forward as love does.
How are you, or can you be imperfectly loving in this moment? Let me know where your love is FLOWING, or just say hi:-)
Here's my love for your Valentine's LIFE.
Love,
SARK
p.s. Come and dream with me on Wed/22nd @ 1 pm PT on Zoom- you're invited! I'll teach and share about living even more of your DREAM life! Imperfectly of course 🙂
Sign up HERE and you'll receive the rePLAY, plus a serendipitous SARK surprise if you can't be there live.