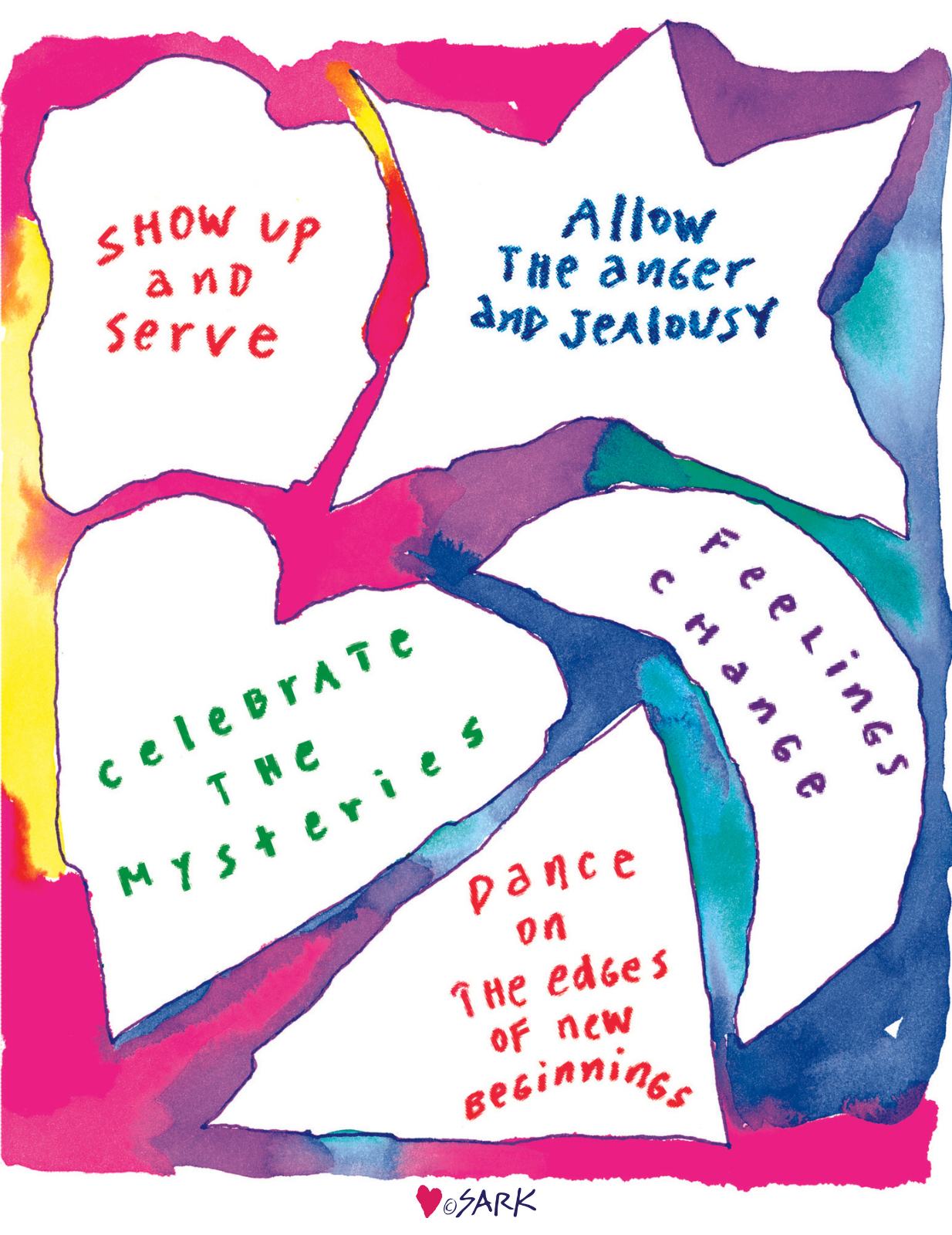 The holidays can feel full of pressures to be GLAD even if you don't feel that way. 
People talk about "holiday cheer," "finding the silver lining," "looking on the bright side," all of which are fine when we feel those things, but can actually add to feelings of loneliness and depression when we don't. 
Luckily, all your feelings want is some love and attention, and will respond swiftly to just a tiny bit of focused care from you. When you can name a feeling, that feeling will feel your love. 
This means living in the Marvelous Messy Middle of ALL of your feelings. 
I mostly welcome ALL the feelings in my emotional family, appreciate all the marvelous, hang out pretty happily in the middle, and allow and accept the messy- sometimes very messy. Of course sometimes I resist feeling challenging feelings, and they just wait until I'm ready to extend my care. 
From this place, you can be aware of and hold all of your feelings, notice ways to respond instead of reacting, and transform what's possible to transform.
When we can find our Glad ground in the middle, it is possible to enjoy the holidays truly, authentically, and even with grace and wisdom. 
Here are some practical ways you can experience more GLADness this holiday season and all-ways: 
Create a new self-caring plan — Think of what you need to feel good during the holidays, and provide it for yourself. 
Some of these things might be:
*Special foods that you know you will enjoy
*Call a friend to share how you're really feeling— not how you think you should be
*Write in a journal or book with lists of things that nourish you, and do the things.
Adjust and lower your expectations, or better yet — have none — Notice how your expectations bring suffering when they aren't met. 
For example, if you feel ignored or overworked at holiday times, take yourself out for champagne and ignore some things you "should" be doing. Change your expectations about what you or others "should be" doing or acting like, and practice allowing how it actually IS. 
Educate others in the best ways to support you—Become clear about what actually feels supportive to you, and ask for others to contribute. 
For example, if you typically care for others and wish others would or could care for you, figure out what they could contribute to you that would be easy and fun. You might ask a friend to meet you for tea and laughter in the midst of a busy shopping or cleaning day, or sit with you while you wrap gifts or write cards.
Experiment with new traditions and rituals for the holidays — Do things differently. We all tend to repeat and become habituated. 
For example, "We always have our meal at _______."  Some of my greatest holiday experiences have taken place at the movies, miniature golfing or serving food at a shelter instead of trying to participate in rituals or traditions that no longer represent who I am now.
Allow yourself to experience your holidays imperfectly — Revise your ideas of perfection and increase your capacity for spontaneous joy. 
For example, if you get tense and pressured about preparing a meal, buying gifts, sending cards, or trying to do it ALL, try:
*Doing parts of things — fix the dessert, ask others to bring the other things
*Doing tiny amounts — consider attending a holiday party for 5- 30 minutes with no explanation about why
*Asking others to help and then don't control or manage "how they do it"
Practice transforming what hurts into what helps — Find the places that aren't working and speak up about them. 
For example, you might ask a group of people in your home to talk about different subjects like what they're loving in this moment, instead of sitting there judging how bored or dissatisfied you are feeling.
*If you're cooking and get crabby, let others know and help you!
*If you hate shopping, ask others to create experiences or adventures for each other instead of buying gifts
*If you keep complaining about the holidays, see if you can put your complaints on paper and resolve to have new experiences
*If you feel ungrateful, find someone to listen to who is facing challenges that you're not.
Being Glad No Matter What is NOT about feeling glad when you don't- how annoying. 
It's about practicing with all of your feelings and feeling glad as often as you possibly can- especially during the holidays!
Love,
S

A

R

K