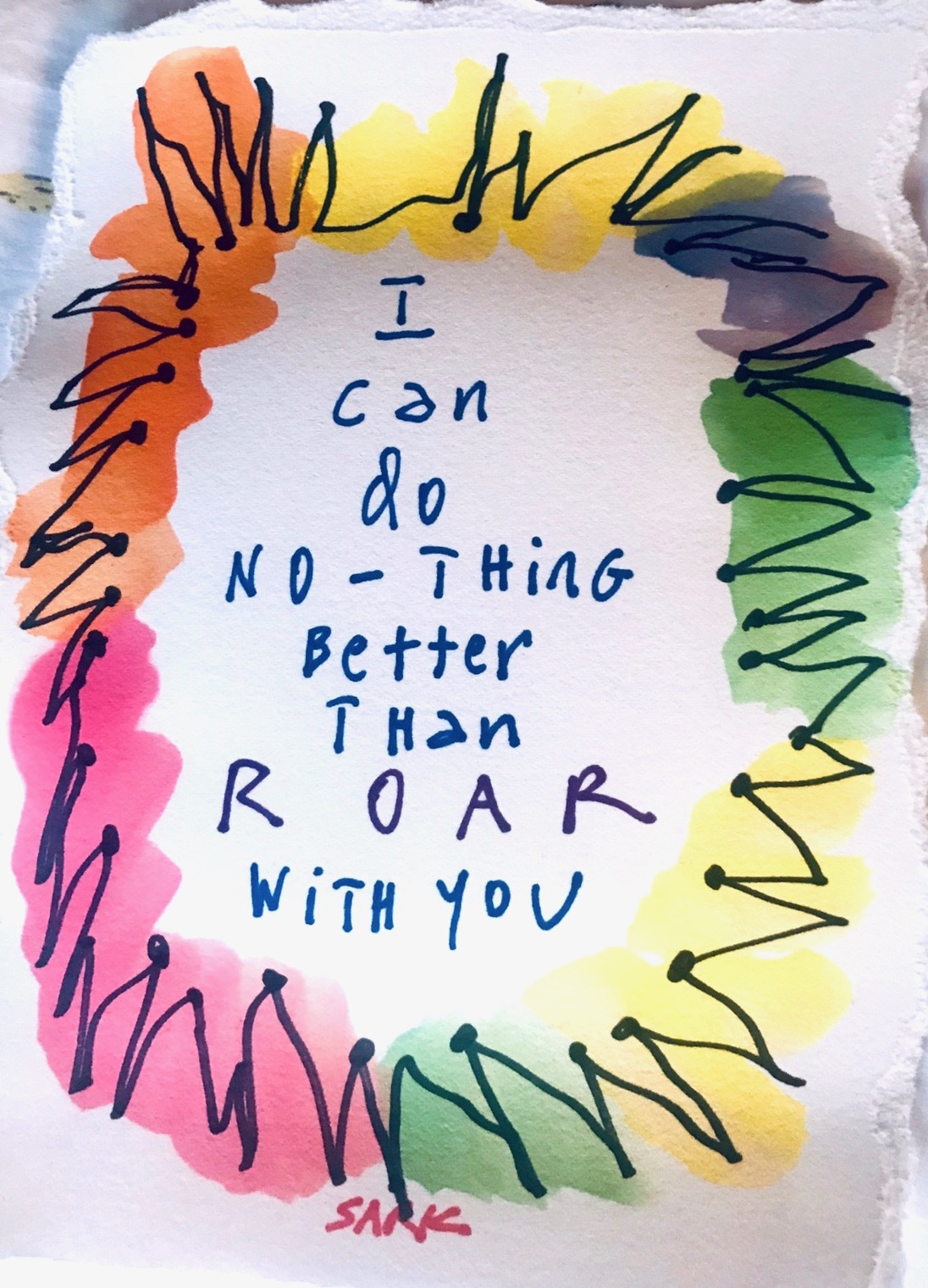 As most of us are now "sheltering in place" or will be soon, let us remember that we are each a miracle, on our way to a miracle, living in a miraculous world. 
Of course it doesn't always feel like this at all.
Especially right now and after right now and then later too. 
It also feels like terror, loss, fear, sadness, loneliness, despair, shame, resistance, intolerance, hopelessness and absence of the familiar.
All of our disowned, barely felt or barricaded feelings are rising up to be seen, known and loved now. 
We do this by feeling it all, by including all of the feelings in our emotional families, and giving them room to soften and change shape with our love. 
We are in the most mighty compassion expanding time of all times, and as fast as the virus is moving, the miracles are moving faster. 
Let's notice and name some miracles!
The more we do this, the more they will show up.
Creativity is at an all time high, as EVERYone moves to meet the new times.
Musicians are doing impromptu concerts from their homes, authors and artists are holding book readings and virtual art classes, and many parents are home schooling when they thought they never would, or could.
We are all being schooled in taking care of our home earth now. Polluted skies are clearing, dolphin are leaping in the Venice canals, and it's as if the earth is breathing deeply.
And of course I'm honoring and acknowledging that there is also great despair, pain, terror, death and suffering during these times too. The miracles are woven within, and our hearts are opening to feel and experience it all.
May our love be infinitely visible throughout.
One of our biggest miracle resources is humans- and they're creating, sharing, and offering every kind of gift, service and type of information during this time.
Thank you for being a human reading these words and moving your soul and heart forward as we all create a new world together.
Jennifer Mullins Williams compiled this list with sources-thank you dear Jennifer!
-China has CLOSED down its last coronavirus hospital. NOT enough new cases to support them.
Source
– Doctors in India have been SUCCESSFUL in treating Coronavirus. Combination of drugs used: Lopinavir, Retonovir, Oseltamivir along with Chlorphenamine. They are going to suggest same medicine, GLOBALLY.
Source 
– Researchers of the Erasmus Medical Center claim to have FOUND an ANTIBODY against coronavirus.
Source
– Cleveland Clinic developed a COVID-19 test that gives RESULTS in HOURS, not days.
Source
– Good news from South Korea, where the number of new cases is DECLINING.
Source
– Italy is hit hard, experts say, because they have the oldest population in Europe.
Source
– Scientists in Israel likely to announce the development of a coronavirus VACCINE.
Source
– A network of Canadian scientists are making excellent PROGRESS in Covid-19 research.
Source 
– A San Diego biotech company is developing a Covid-19 VACCINE in collaboration with Duke University and National University of Singapore.
Source
– Tulsa County's first positive COVID-19 case has RECOVERED. This individual has had two NEGATIVE tests, which is the indicator of recovery.
Source
– Plasma from newly RECOVERED patients from Covid -19 can TREAT OTHERS infected by Covid-19.
Source
Here's to more mighty miracles gathering for us all to see and know- let us name and celebrate them, and invite more.
Thank you to everybody, especially health care workers, nurses, doctors and anyone working to be of service so that our services continue.
May we all practice applied patience, the art of letting go and build even more resilience along our way. Let us participate in building abundance more than participating in scare-city. 
Let us love and be loving as often as possible, and in that way, create more love to share.
Love,