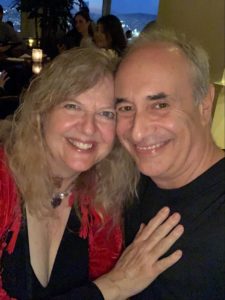 This is #6 of a 6 part "mini series" for you about my writing and creating the book Succulent Wild Woman; Dancing With Your Wonderfull Self,
Here I am dancing with my wonderfull self and darling David in 2019 in San Francisco, after he moved in with me so succulently to live together in LOVE. 
And in case you didn't know, we got engaged on Dec 25th, 2021! 
"LOVE moves in and lives on."
This is what my former fiancé John so radiantly expressed to me just before he died in 2016. After he died, he then came from the afterlife to tell me that my husband would be arriving in May. 
I met David on May 21st 2018. 
David and I made one main vow to each other: to tend to our own alignment first. That way, we can each dance with our own wonderfull selves separately AND together as we love ourselves, each other and the world. 
I describe more about this in the 25th anniversary edition of my book Succulent Wild Woman. I share how you can live more succulently with yourself and in your relationships, and I've added 4 brand-new chapters of art and words!
It comes out to play on June 14th, and you can pre-order it now here.
Are YOU dancing with your wonderFULL self?
Remember that that dancing also includes all of the times that you feel flattened, crumpled, wrinkled, dented, despairing, resisting, refusing, crying, roaring, sobbing, raging and like quitting. 
I am honoring these experiences and feelings. I also welcome the times you feel loving, successfull, joyfull, fulfilled, centered, gracefull, beautifull, radiant, beloved, blessed, ebullient, alive, divinely guided and deeply loving. 
Let me know- I love to hear from you! Leave me a note 🎼 about your dear self and you are invited to share this post. 
I want you to know that whatever form your dancing takes, I celebrate it. 
I celebrate your wonderfullness right now!!! 
Thank you for reading along on my 6 part mini series of succulence! If you missed any, you can find them here.
And thank you for preordering the book, which you can do here, sharing my posts and/or leaving an encouraging comment. 
I appreciate you.