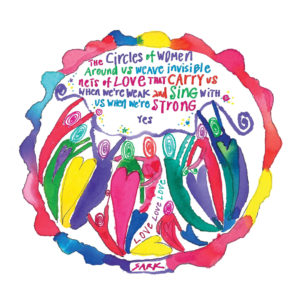 This is #5 of a 6 part "mini series" for you about my writing and creating the book Succulent Wild Woman; Dancing With Your Wonderfull Self.
Today I'm writing about the power of sisterhood. Because now, more than ever, the circles of women keep circling and RISING. They are becoming ever larger and STRONGER. 
"The circles of women around us weave invisible nets of love that carry us when we're weak and sing with us when we are strong." 
If this wisdom rings familiar, you've probably read my book Succulent Wild Woman. The 25th Anniversary edition, complete with brand new art and words with 4 additional chapters, comes out on June 14, and you can pre-order it now!
I created this brand-new art for the book! 
All the women in my life weave these indelible and invisible nets of love and help carry me when I feel weak and sing joyfully with me when I feel strong. 
We are bonded in our commitment to alchemize the wonderfull and terrible… to join together in the difficulties and the gladnesses as we live succulently and wildly. 
I deeply honor and celebrate these wild women in my life: 
My great grandmother Eliza Chitty, grandmothers Luella Lee and Jesse Kennedy, my mom Marjorie Elaine, and my beloved David's grandmother Ida Rose, and his mother Arline. 
How about you? 
Who are these women in your life… in your circles of sisterhood? 
Say their names out loud. Feel their energies. Call upon their spirits to join you now and all-ways. 
Whether they are living or beyond the living, their loving legacies live in you. 
Share this post or tag a woman or women you love and we'll widen the infinite circle. 
In the widening comes the rising, in the rising comes the revolutions of LOVE. 
p.s. If you'd like to invite the women in your circle to join us in the rising, I'll love it if you would send her this link, so she can enjoy a copy of the 25th anniversary edition of Succulent Wild Woman! It's available for pre-order here. (And if you haven't read it yet or can't wait to read the new addition, I hope you enjoy your copy as much as I enjoyed writing it!)