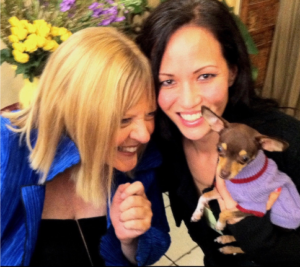 In my practice of dating the world and expanding my love capacities, I've met so many inspirational people living incredibly loving lives. In the upcoming weeks I'm going to share some unconventional portraits of love with you.

David and I likely wouldn't have met without the love and vision of Tashina Suzuki, a wonderfull artist living in Portland, Oregon.
Tashina excitedly told David 8 years ago,
"There's a female version of you, and her name is SARK, and she has an amazing Inspiration Line that you are going to love. You need to call it."

And so he did. And he left me a message thanking me for being me.

I never got the message. There are hundreds of messages each month, and although I happily listen to them, sometimes I miss one along the way.

David immediately called Tashina, excited to have found someone on his wavelength. And he has been calling my line for the past 8 years, and as he said, "happy and grateful to know that there is someone else in the world with such a similar method of inspiring others to love, laugh, express and heal."
Thankfully David read my post in May called "I'm Dating the World" and decided to leave me another message on the Inspiration Line. This one I heard!
If you haven't read all about that, you can find it on my Magic Blog, Love Comes Again Parts 1 & 2 as well as a more recent one about how Love Moves IN. 
David and I called Tashina together a few months ago, to thank her for bringing us together.
She is a SARK appreciator, and had come to see me at a book event decades ago in Los Angeles. The photo of us is from that book event, where I met her and her darling dog.
When she answered the phone I exclaimed, "Tashina, thank you FOREVER for bringing me this magnificent man."
Tashina replied, "Thank you, but you're the person who made it happen. Because you write so openly about your life, I felt as if I knew you personally. So I KNEW he was a match for you."
This is a great reminder for all of us, and especially writers and artists, and for anyone reading this now, who may feel unsure of whether to share themselves vulnerably with their friends, their family, or even the world. It's by letting people know who we REALLY are that we are able to be met by the fullness of others, and to love and be loved. Our authenticity and vulnerability are not just gifts for ourselves, but also for the world.
Tashina creates her life and love creating art in Portland, and you can see it here at:
https://www.tashinasuzuki.com
I invite everyone to get to know this wonderfull artist, so you can be inspired by the way she lives her life, as well as the remarkable art that she produces.
Meanwhile, David & I are being authentic and vulnerable together – as we prepare to move in together in San Francisco this month. I'm in Massachusetts with him now, helping him pack up his house.
Here we are at the Boston airport last week. I'm loving him and my "marvelous messy middle"hair.

How are you making choices to be able to experience more love in your life? If you'd like some support and inspiration from me about how to feel even more love, I'll be on Facebook Live this week Thu/6 at 11am Pacific, 2pm Eastern, wearing my "visioning" hat, and talking about more ways for you to do just that. Bring some markers if you can, we'll be playing together.. You can register and receive reminders easily at the link below!
Love,
S
A
R
K