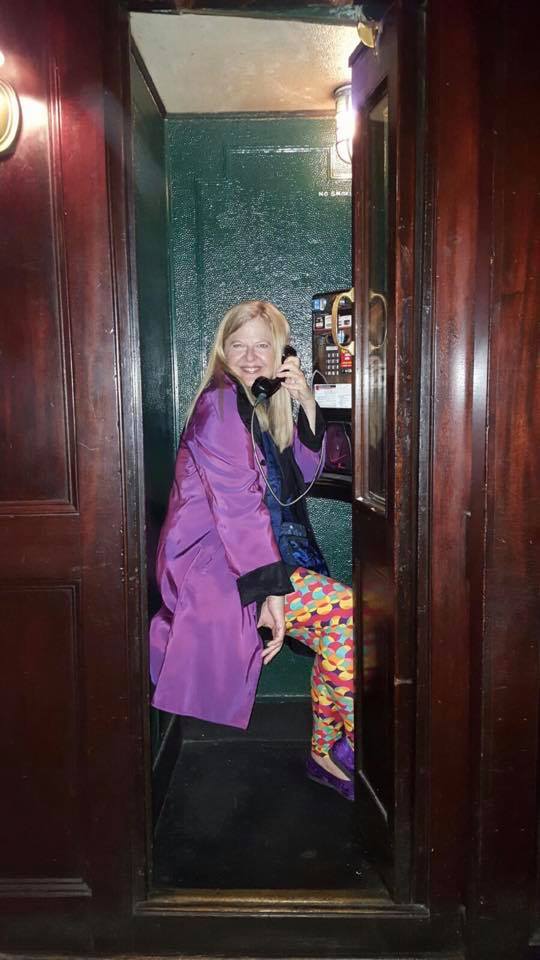 If you saw & responded to my April 19th birthday wish social media post where I asked for how and when SARK has touched you or your life, your response really touched my heart. THANK you so much for your thoughtfull, lovely, loving and inspiring comments. 
It feels incredible to know the effect that SARK had and has, and that whole new generations and future ones can benefit. I'm so honored to represent the spirit of SARK who appeared in my life in 1982 and changed everything. If you didn't see that post and would still like to respond, I'd love to hear from you in the comments and thank you! 
Now I'd love to share the miracle that happened the night before my birthday.
I arrived home and found that my phone wasn't charging with the power cord. I tried 4 different cords, and none of them worked.
I began to panic, because I knew of course that all the phone stores are closed, and I do almost all of my work and writing on the phone. 
Of course I also know that this is very much a first world problem;-)
I called customer service and didn't know whether it would take forever to get help.
The calm man that answered in less 5 minutes kindly said, 
"This is John, how may I help you?"
To which I replied with a smile in my voice, "Oh hello, I just love that your name is John!" 
He said with curiosity, "May I ask why you would say that?"
So I told him, "My former fiancé who died in 2016 was named John, and my phone just broke, and it feels like a sign that he's helping me."
He said, "Oh wow. Okay, thanks- that feels very important."
I then told him with tears in my eyes,
"Also, I know this is a minor thing, but it's my birthday tomorrow, and now I won't be able to get texts and calls."
He sympathized and said he understood- it just felt good to say it and have him hear it and understand.
He then ran a diagnostic test on the phone and it confirmed that there was a "thermal" issue, and that the phone would need to be repaired. 
I knew that repairs would take quite awhile and I certainly couldn't wait for their stores to reopen.
I explained to John that I write everything on the phone, so I'd have to create some kind of miracle. 
I then remembered that John's old phone was in a drawer and I hadn't turned it on for 3 years- I kept paying for it for a year after he died, because I couldn't bear to deal with it or turn it off.
I plugged it in and saw the battery start charging. It felt like a miracle and that John was there with me.
John from customer service said, "Could you wait on hold for me to ask a supervisor what else I could do?"
I said I could wait. 
He was back very quickly and said,
"Get a paperclip and we're going to try something. Look in there and see if anything is blocking that port."
I got a flashlight and couldn't see anything but a tiny white speck, and told him about it, that it didn't look like enough to block anything. He said, "Use the end of the paperclip and get anything that's in there out."
So I did, and then more white specks came cascading out. I couldn't believe how much was in there! I think it was lint, even though I don't keep the phone in a pocket.
David came in then to hold the flashlight and encourage me to keep digging. Finally, it seemed like it was clear.
Then John told me to try plugging it in, and we all heard the sweet sound of it charging!!!!
I said, "Oh my god, that's the sweetest sound ever!"
And David exclaimed, "That's the best birthday present ever!"
John then told me that he had gone to get a supervisor and some kind of energy stopped him. He said it was very direct and persistent and that it "told him" to do what he did.
I told him that I was sure it was John from the afterlife, and that I was so gratefull that he listened.
We both just sat there in silence on the phone, feeling astonished.
John then said, "I've never experienced anything like that- it was real- I can't explain it, but I know he was telling me what to do."
I told him that it's perfectly natural to contact and be contacted by people in the afterlife, and that the veil is especially thin right now. And, that John does these kinds of things all the time. He listened closely.
I then said, "This might sound strange, but I want to tell you that I love you."
He paused, and said definitively,
"I love you too."
I asked if I could email him, because I was going to write about this experience, and he said that I could, and that he wished that I would.
He said, "God bless you Susan. I'm going to be thinking a lot about this."
I said that I would definitely write to him, and of course I will. John in the afterlife already knows all about it.
Love,