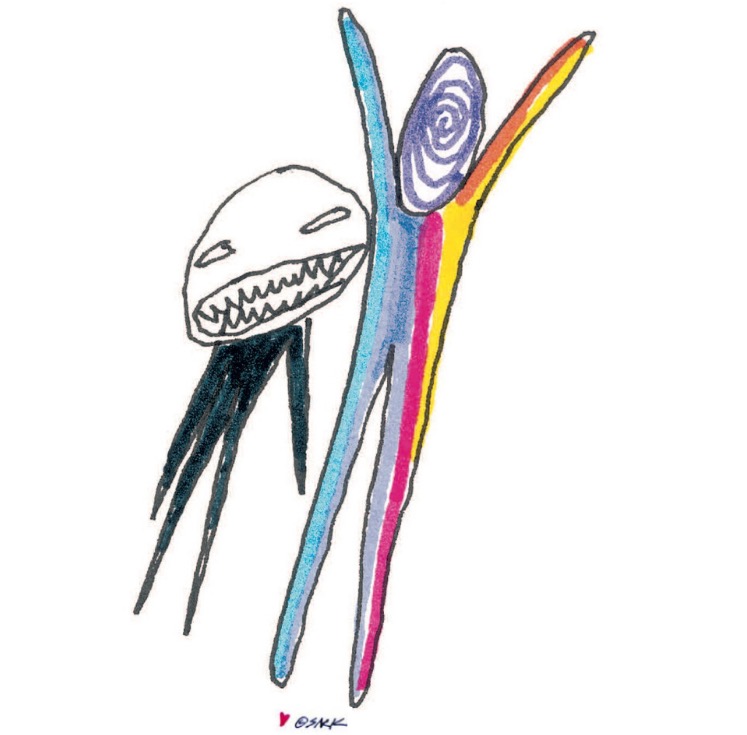 My fears are very active these days.
There is a lot to be afraid of and people to be afraid for.
These multitudinous fears jostle for position, for my attention.
They clamor for my complete attention.
I used to try to avoid or resist my fears.
For a number of years I tried to control my fears by attempting to control the environment that seemed to produce them. 
I heard messages like these incessantly inside my head:
"If only I could…"
"If only he/she/they would or wouldn't…."
"If we had just planned better…."
"If only this didn't cause…"
"Oh no! Not THIS!"
Then for awhile I tried squashing my fears into some kind of containment– by placating, pleasing or otherwise untruthfull behaviors.
Listing all of my fears kind of worked, although the fears seemed to multiply faster than I could make note of them.
I tried just accepting them, and that worked until new varieties sprang up to capture again- my complete attention, leaving me to feel consumed by the fears.
Fears and their cousins worries, eventually moved in and wildly acted out with each new affront.
I finally realized some years ago that it was best to live primarily in the "marvelous messy middle" and stay out of the extremes with my feelings. This involved welcoming and allowing ALL the feelings in my emotional family- including my fears.
I tried to be friends with my fears, until I realized that they didn't meet my friendship requirements, the most important being kindness and truthfulness. Fears most often responded by being unkind and lying.
I then informed my fears that while we couldn't be friends, that I would practice allowing them. This allowing takes the form of my listening to my fears under supervised visits, giving them love, and no longer letting them run my life or my mind.
This actually worked. By including all my feelings in my emotional family, I'm now able to fully feel them, give them love and integrate them into my life in ways that allows for a LOT more calm and ease, and allows me to help others do that too. I practice with my feelings care methods daily and that has shifted EVERYthing in my emotional life.
I went on to establish new and better relationships with all of my feelings.
I released my feelings of shame where I had duct taped them in the basement to try to silence them.
I welcomed my worries and stopped trying to stop them. Then of course I worried about THAT. Worries are incessantly active in the negative- they can't help it.
I invited anxiety to tea and discovered that it had lots to anxiously say about EVERYthing, and anxiety informed me that I hadn't really listened in a long time, well maybe really never….
My fears informed me that I had better get and stay prepared, because there are worse things than I had ever imagined that could and would happen- especially if I don't stay:
ALERT AT ALL TIMES AND IN ALL CIRCUMSTANCES, and most of all, give my fears my COMPLETE ATTENTION.
(Fears can get very active and agitated, and they love to take up all the space and air until they feel heard- once heard, they will soften and change shape.)
How's your relationship with fear? How do you relate to your life and the world with regard to it? Sending fear softening and love expansion to us all. Leave a note ? if I can reduce the fearing and add some loving to your life, or if you'd just like to say hi~
Fear feeds on the unknown and lives primarily OUT of the present moment.
Ask yourself "How am I in this moment?"
And then ask again, until your nervous system calms. Ask to be shown ways to help yourself and others release from fears.
Fears will settle right down with some simple attention. Say out loud or under your breath, "Fear, I see you, I hear you, I acknowledge you."
This will allow fears to soften and change shape. In that shape changing and softening comes relief. In that relief you can breathe deeper and feel more love flowing.
Here are a few other (mostly free) resources: 
Watch the movie Inside Out
Feelings and emotions are brought to life in the most innovative and creative ways, causing the viewer to expand their feelings capacities.
Let yourself laugh heartily while watching this gem with Bob Newhart
Listen to these sounds and more easily let go of fears, worries and overthinking. 852 Hz 
Do this simple 5-minute tai chi routine to support and calm your nervous system
Here's a great 2 minute video on breathing for calming and receiving from Steve Sisgold- author, speaker and Whole Body Intelligence Coach
Consider doing EMDR
Due to current circumstances, Valerie Tate is now offering EMDR Online! 
(Free consult via video)
Eye Movement Desensitization and Reprocessing is an integrative psychotherapy approach that has been extensively researched and proven effective for the treatment of trauma or persistent thought patterns that are affecting you in day to day life. It is used for phobias, traumatic events or fears.
I HIGHLY recommend this modality, Valerie's skills, and how quickly it can cause positive changes. Read More HERE
Practice EFT
I've utilized EFT for years, and it's superb for easily and quickly shifting your emotional state. You can download Stephanie's FREE course HERE.
EFT is a highly effective self healing technique, implemented by gently tapping along Meridian end points on the face and body. When we experience fear, our bodies release stress chemicals. EFT has been proven to turn off the fight or flight response, calm the nervous system and promote healthy energy flow, returning you to a state of feeling safe and grounded. 
Donna Eden's Energy Medicine Programs
This work is simple, PROFOUND and life changing- I practice it daily. There is a fabulous directory of practitioners and lots of free resources for you to explore- simple 1-2 minute ways to shift your energy from fear to love and expand your innate vitality and health.
Call me on my Inspiration Phone line– a free 24 hour phone line I've offered for over 25 years. It's real, loving and calming, and it's there for you:
415 546 3742
Whatever ways you choose to practice, keep choosing and practicing and be an embodied example for others.
Here's to less fearing and more loving,