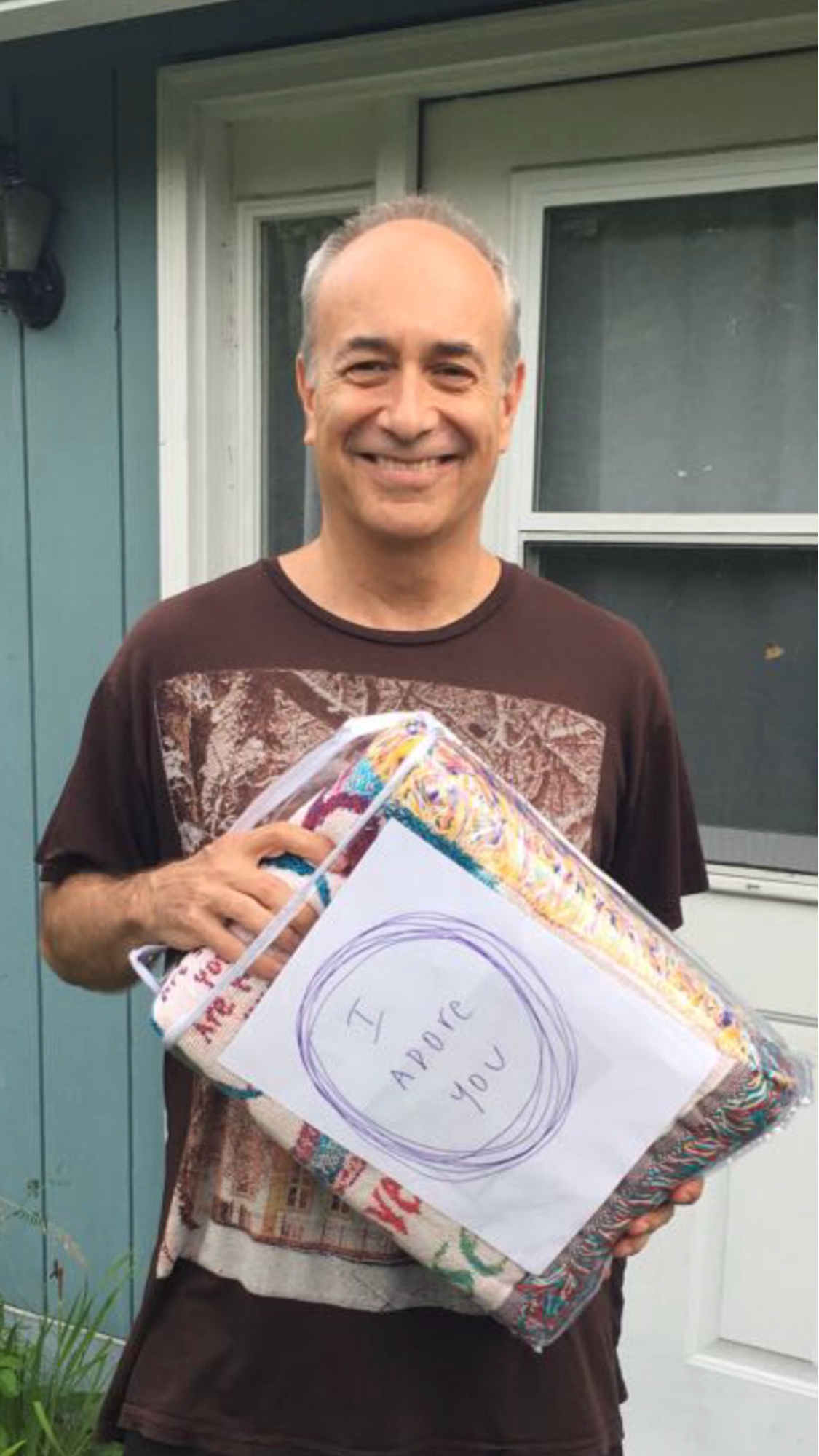 I invite you to join me in celebrating my beloved David's 60 years on this planet on this day of April 28, 2021.
After this date wishes are welcome too!
And if you'd like to add any life wisdom you've gleaned, please do. Favorite quotes or good books to read appreciated also.
This is a favorite photo David sent me shortly after we met on the phone almost 3 years ago, when he received one of my blankets as a gift from me and a love note I'd tucked in. I love him and his open beaming face and spirit.
To celebrate his 60 years, I could easily focus on all his successes in life: more than 25 years as a Hollywood movie producer and screenwriter, and all that it produced, his two loving and successfull grown children, his loving relationship with his family, his willingness to do deep psychological work and cry easily, his being a man of faith, spiritually rebuilding his life after divorce and marrying himself before he had ever heard of SARK!
This man is truly loving the world and we practice doing that together. As much as we are partners and lovers, we are joyfull creators of the NEW.
I'll be so incredibly glad to share with you what we're creating together- of course I want to just burst in and start exclaiming about all the exciting things- and I must wait until they ripen and ready.
I asked his Dad what he loves about David, and he said,
"David is the most thoughtfull man I've ever met."
What could be better than that?
Happy happy happiest birth?day my darling most beloved David.
Welcome to Level Six. (I like describing age in "levels.")
You illuminate my soul every day and re-mind me to embody the gifts that I've been given. You help me to breathe through the obstacles and fears, inhale the ecstasy, and then share the integrated version of that.
Thank you for loving me so fully in my succulent wild woman self.
Thank you for being present for it ALL- the marvelous messy middle in all of its forms, and for the terrible things that happen.
Thank you for occupying your shadows and being willing to work through the difficult patterns that arise, and keep working- in therapy and in life.
Thank you for asking for, and allowing all the miracles.
Thank you for being so sexy and so real.
Thank you for lifting up all the souls you can reach with your prayers in action and your creativity in expression.
Thank you for being a gifted teacher and creator.
Thank you for BEing.
Love,