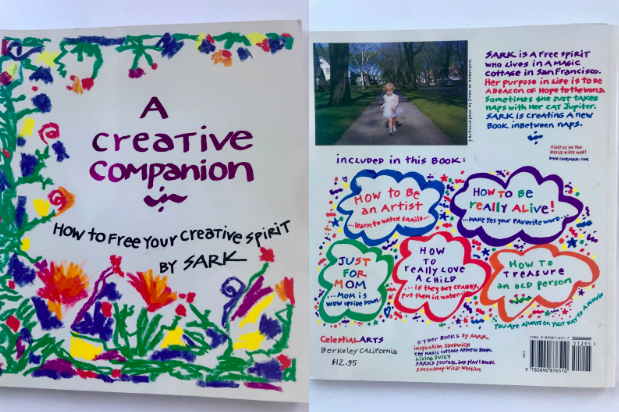 I used to be a master procrastinator.
In retrospect, I believe I just needed more time to marinate in all that I wanted to write and share with the world. Also, I had a lot of healing and living to do.   
I'd written my first book at age 10, after my 80 year old best friend Mr. Boggs had gotten sick and gone into the hospital.
My mom told me he probably wouldn't be coming back.
I wrote him something every day for a month and mailed the misshapen packages to him in the hospital.   
He did get out.
And he said to me,
"I think you saved my life- no one else called or wrote while I was in there, and I had to get out to see you."
I ran in my house and told my mom,
"I'm supposed to be a beacon of hope and write books for the world!"
She told me to eat my peanut butter sandwich. I ate that sandwich and many others as I wrote my first book "Mice From Mars," that summer of my 10th year.
Then I fell silent as so many people do.
For 25 years, I dreamed of writing the rest of my books.
The dream didn't leave- it stayed simmering in my soul, waiting for me to allow it forward, to stop saying "how" and start saying NOW.

All that we dream is inside of us.
I wrote my book "A Creative Companion," in just 2 weeks, after 25 years of dreaming.
What are you dreaming of doing, being or creating? I'll love to know.
My first published book was born in the Magic Cottage, amidst dozens of candles burning, and me praying that the pages would reflect my heart.
When I finished, it looked so crooked and odd- but it glowed the way my heart felt.
I showed it to a publisher who said,
"We have to publish it just like this- with no changes!"

 I was glad, because it felt complete as it was. Later I learned to work with editors, and greatly appreciate what they do.
For A Creative Companion, I can still feel the way my heart expanded when I wrote it, and how my dream was made REAL.
I went on to write and publish 17 more books and have about 50 more that I'd love to write. I have so many different kinds of dreams in process and in progress.
I'm now making more of my many dreams real and helping others to do that too- mentoring people is one of my greatest joys. 
We are all treasure chests, stuffed full of wonders, in various stages of readiness- our dreams are resilient and just need a human channel to bring them into form
Here's a favorite excerpt from this book:
When I was young, and desperate to escape family dysfunctions, my only free creative time was at night.
I am a reader, a writer, a child who won't go to bed at night. I stay in my room, reading and reading some more. By crack of the door light, flashlight, night light, moonlight but almost never the light in my room. My father took all the lamps out of my room, for fear I would never sleep! I said, "sleep is fine, even sublime in the daytime, but not at night time, cause that's the best time!"
I saved up bread from dinner, rolled it into little balls and balanced them on my nightlight, cooking them there. They tasted toasty and sweet. Delicious things happened at night…
Doorbells glowed, rhubarb beckoned, grass crew extra green and juicy. The world fell dark and secret. It was when the stairs create loudest. Comic books and poems, a list of dirty words, moonbaths is in bed. No rules! The air was full of the dreams of the sleeping people.
Excerpted from a work in progress.
Considering that I wrote this book in 1991, it amuses me that this excerpt is still a work in progress in 2019! I think my whole life is a work in process:-)
Here's to all of us, to all of our dreams, and all of our souls daring and dreaming and allowing treasures in and out– and for all the times we hide and wait and fear saying NOW, and say now anyway. May anyway lead us further.
Love,
[thrive_leads id='11747′]