💜 Permission to Rest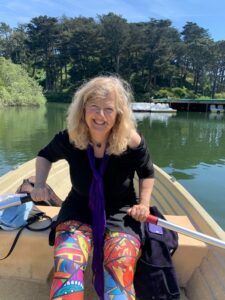 Dearest illuminated kindred spirits,
Today is my birth🎈day, and I also celebrate all of April as my birth month.
Some years ago I started making the whole month available as my birthday because I might be crabby on the actual day;-)
Also, I want more opportunities to actually feel celebratory. You may know that I do a lot of deep inner work, so there are always many feelings to experience and alchemize.
I like to describe age as levels in decades, so I am a late level 6, a year from entering level 7.
My fellow feisty author Anne Lamott just had her 69th birthday and wrote, "I'm the oldest I've ever been—fifty-nineteen."
I like that description too.
Here I am at one of my happiest places- in a rowboat on the lake in Golden Gate Park in San Francisco. My darling husband David took this photo, and his birthday is in April too, along with his son/my stepforward son Ben- the word stepson hasn't felt quite right, so I'm experimenting;-) maybe I'll just refer to him as my miracle son instead.
And somehow David's wonderfull parents got married 64 years ago on my birthday! Plus 2 of our dearest friends and 2 of our relatives all have April birthdays too- it's a personal April birthday extravaganza!
I love birthdays and the experience of rowing so much. I revel in the sounds of the thunk of the oar against the side of the boat, and the happy birds that paddle enthusiastically in the wake, as well as all the nature sights gliding by. I find the whole experience so relaxing and rest-full.
I introduced David to "rowboat napping" and he has happily laid down on the rowboat bench to rest while I've happily rowed him around the lake. Whenever we do this, people from the shore are transfixed by the scene and call out all sorts of hilarious things, like,
"Way to go dude!"
"Wow! I wish someone would row ME around!"
"You got it made!"
I'm glad that our culture is moving away from being "rest-averse" to finding more and different ways to rest, and to be seen resting.
When I first met David in 2018, he asked me to rest more as a birthday gift for him- and I did and continue to do so. Even though we had just met, he sensed that I needed to slow down and breathe more, to truly live the life I wanted.
I have learned (again and again) that rest is essential for me and for all of us human BEings. Especially those of us who are prone to DO too much. And of course there are times we must actively do things, and times where there simply isn't "time to rest."
Still, I invite you to rest in between those times. And if just the thought of resting more helps you feel better, know this:
You have permission to rest!
So in addition to everything else I wish for you, what I want for my birthday is for you to rest more, and to share the value of resting with others- and to inspire the world to slow down and be present. Let me know one of your favorite ways or places you love to rest, or how you plan to rest as a birthday present to me!
I recorded a new Inspiration Line message for you and it's here 25 hours a day:
415-546-3742- it's 2 minutes full of laughter, words of inspiration, and love- what could be more restfull and inspiring than that?