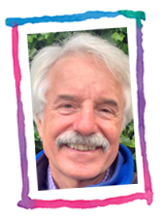 When I first met Susan, someone mentioned that she had worn pajamas on airplane flights. Susan has written a great deal about the value of napping and lounging—taking the time to nourish yourself. So when we were thinking of an easy way to remember the principles of nourishing a relationship, we came up with the acronym PJS.
S stand for the fact that in any relationship there are separate individuals, and that it is important to understand and respect each other's boundaries.
The word Separate may seem ironic when talking about relationships, but there is tremendous benefit in remembering that any relationship is made up of distinct, valuable individuals.
Sometimes we can get so exited about the nourishment of being with a partner, taking care of a child or being in other kinds of relationships, that we don't pay as much attention to the value of our self-care. A good relationship actually starts with Self love.
Each of us has boundaries of respect, privacy and activity. Inviting someone into your boundaries is a privilege you give them. In a Succulent Wild Relationship it is a privilege that never changes to a right that your partner can use to "tame" you or limit you.
J is to remind us that we can always find joyful solutions, that compromise and sacrifice are waypoints along a path to finding the best outcome—and we don't have to stop at these waypoints.
Most of us were taught that relationships require compromise: a certain amount of sacrifice is necessary when entwining one's life with another. Everyone gives a little (or a lot) so agreements can be reached. And then they move on.
What we've found is that the most important factor in finding joyful outcomes that feel good to everyone is that you believe you can. If you believe the furthest you can go is compromise, then you'll stop there. If you believe in scarcity—that for you to get what you want others have to have less, then you will stop there.
As you begin to expand your thinking, you'll find new possible solutions. When Susan and I do this, we almost always create something that neither of us had thought of before, something even better.
P stands for the fact that that each of us is perfect and perfectly lovable, just as we are.
Once you know you have the right and power to be treated with respect, to have your privacy and to go on with your own life as you see fit, once you know you can find solutions that meet both you and your partner's needs—then you can go on to the next step, which is to see your partner as Perfect.
This doesn't mean you don't have preferences. We all have preferences. What it means is that the choices of the important people in your life do not—cannot—keep you from getting what your want.
Many people have lists of frustrating things about significant others, themselves and other people. What we've discovered is, if you don't find a joyful solution with someone, each of you can find one on your own.
When you can create a joyful outcome without requiring your partner to change, you're free. And if the issue is within yourself, when you can find a solution that doesn't require you to change to be okay, you're free. And from that perspective of freedom, you can see your partner and yourself as perfect.
So these are PJs that you wear mentally—principles to live by in relationships. And when you do, like when you physically change into PJs, your outlook and what's possible changes. When you begin to apply these ways of interacting, those around you begin to respond differently too.
There's more—much more—and it's all possible when you learn and practice these principles. I know, because this is the experience in my relationship with Susan—and all of our most important relationships.
I'm excited to have the opportunity to share these ideas and tools with you. You deserve to have the nourishing relationships you truly desire—and you can.
Go HERE to learn more about the program Susan (SARK) and I have developed.