When I published Succulent Wild Woman in 1997, all the men came out for that book.  I had added a line on the back that said; "Men are welcome in the land of Succulent Wild Women."
And they really were.
The men were peering around the bookshelves and raising their hands at my boisterous book events.
I created my next book with them in mind, and titled it;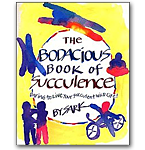 The Bodacious Book of Succulence. I profiled all the Succulent Wild Men I already knew and called for more.
As I contemplated having a romantic relationship with another person, I wondered if it would be with a man. I already had my Succulent Wild Cat "fur husband" Jupiter, and had married myself, and I questioned whether there was a man who could be a match for me.
I hadn't met any men doing deep transformative, psychological work with themselves. Deep down, I knew there must be some, but I hadn't yet met any…I think I had carefully not found any so I wouldn't get hurt by one.
During 2009, I sat for a year in a "conscious singles wisdom circle." In that group, I witnessed truly succulent men, delving deeply into their emotions and spirits.
From there, I knew they existed – and I knew that I was ready to explore the possibility of a relationship with a Succulent Wild Man, whether I might get hurt or not.
To me, a Succulent Wild Man is self loving and full from the inside, able to navigate the masculine and feminine, committed to emotional growth and willing to love and be loved.
It would be wonderful if we had similar world views, and he was successful in his own realm, eccentric or creative, and able to respect my autonomy.
When I met John in 2012, he had all these characteristics *and more*.  I knew that I had located a Succulent Wild Man.
The fact that he brought me brand new principles for relationships and is a gifted teacher, writer, partner, lover, playmate and person, is BEYOND any succulent thing I ever imagined.
You can have this kind of succulence too – I know that it comes from practicing specific principles, and John and I are teaching those principles in our new program that starts on Thursday. You can find out more HERE.
Most importantly, know that Succulent Wild Men do exist – and so do Succulent Wild Relationships. I'm living proof.