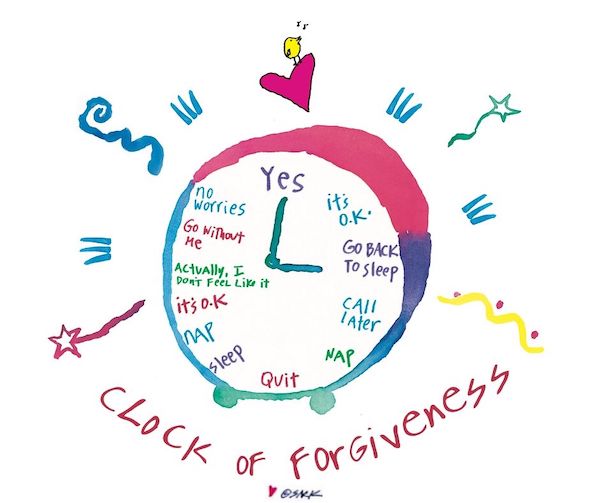 I used to stare so hard at the clock in school and pray for the hands to tick past faster. I was being abused in my family and didn't get much sleep staying up at night to try and protect myself.
Then I grew up and started healing from those kinds of experiences, and started creating my own kind of clocks- which felt much better- and my kind of time was my own to create

. 
I invented and use something I call

the time stretcher

– to call in when I want time to stretch out and elongate, good for things like lovemaking and eating delicious food. 
And

the time shrinker

– to call in when I want time to shrink and compress, good for things like the dentist and long plane flights. 
One time, I created and sold SARK watches that had words instead of numbers, and those words were randomly repeated; eat, nap, play, love. We couldn't keep them in stock. 
What kinds of time do you want to create in this new decade

?

Let me know a word or two in the comments, and we'll play time creating together

. 
Mine are

:

spacious and easy

. 
As I continued healing,

growing and changing

, I began to want more benevolent kinds of time. 
Here's what I came up with. 
What do your hands of time say

? 
And does time have feet? ?
Love,
p.s. if you heard that I'm teaching a 2 day online video reTREAT next weekend- it's TRUE! It's a Revolution of Love and Joy Sat/18 & Sun/19 and it welcomes the new & old you, and offers upgrades and additions. You can SIGN UP HERE.