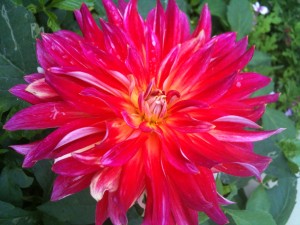 Dear Radiant Soul,
I've been writing about some of my personal experiences being mentored by Dr. Maya Angelou.
You can read that post here. I've loved your comments and reflections and so appreciate reading them.
In this post, I'm going to share what happened when I went to do a national TV show in Canada.
I arrived at the TV studio with my friend Adrienne, who was acting as my assistant for this occasion. There were 2 dressing room doors- one said SARK on it, and the other said Dr. Maya Angelou. It felt like such a fantasy.
Adrienne immediately said, "Oh good, let's have you meet Maya!"
Almost instantly, my inner 13 year old appeared. I felt myself contort into the same body language I remember from that awkward time in my life, and I said, "No, she probably won't remember me…." And I began trying to scurry away.
Adrienne spotted Dr. Angelou's assistant- an officious looking man in a khaki suit, holding a clipboard. She went right over to him and said,
"SARK would like to meet Dr. Angelou."
I felt mortified.
He looked down at his clipboard, mumbled something as he opened the door to her dressing room.
The next thing I heard was him saying, "Dr. Angelou? There's a SERK here to see you."
Now I really felt mortified- by mispronouncing my name, I felt SURE that she would never remember me.
I then heard Maya's distinctive voice saying loudly,
"SARK? SARK is here? Where is she? I want to meet that woman!"
She came roaring out of that dressing room and came right over to me, scooped me up and stuffed me right under her armpit, while simultaneously rubbing the top of my head, saying, "You smartie patootie! You smartie patootie!"
I couldn't believe it was happening. I'm fairly tall, and I felt diminutive in her exuberant embrace.
It was so much the opposite of what my inner 13 year old feared, that I just started laughing and relaxed into it. There even was a moment when I felt the tiniest bit afraid that she wasn't going to let me go!
When she did let me go, she looked into my eyes and said,
"GOOD for you. Good for you. You should come over to my house for fried chicken."
I then felt speechless again, and we went on to talk about the TV show and how we would each talk about being mentored, and people being mentored by each of us. She was gracious to Adrienne too, and what I remember most of all, was her presence.
My inner 13 year old even felt more relaxed, and I've since learned how to reparent that part of myself, along with all of the other "inside children."
My memories of the show are a happy blur- somewhere I think I have a tape of it. If I locate it, I'll see if I can find a way to share it.
I never did follow up on her offer to have fried chicken, but I did share my book Transformation Soup with her, and asked if she'd like to endorse it. Again, she called my answering machine and left a message saying,
"SARK? I've written a POEM for your book- I hope that you like it." She then read me her poem in that remarkable voice of hers;
"I'm head over hills and over the moon.
No work of SARK can come too soon.
I'm laughing out loud, that's what it took.
I hope everybody will buy this book."
I saw Dr. Angelou several times after that when she visited San Francisco, and was able to join her for dinner one night with a large group after a booksigning. Of course I wish that there could have been more times with her- I always want more of something good.
In all of the comments and memorials I've read since she died, I've been most moved by the descriptions of her many kindnesses to all kinds of people. I feel blessed to be one of those people, and to share that blessing in every way that I possibly can.
Love,
SARK (aka Susan Ariel Rainbow Kennedy)