Dearest Fun Appreciator,
I am celebrating ALL THE MOMS doing fun and funny things with themselves, their kids and partners, for Mothers Day and every day.
In honor of all the moms and those that love them, we are having a great SARK blanket sale here with Just for Mom, How To Really Love a Child, Loving is the Whole Point & well, we couldn't resist – the whole collection.
I love turning my art & words into blankets, and these blankets are the best ever. Bright colors, machine washable, 100% cotton & the perfect napping weight.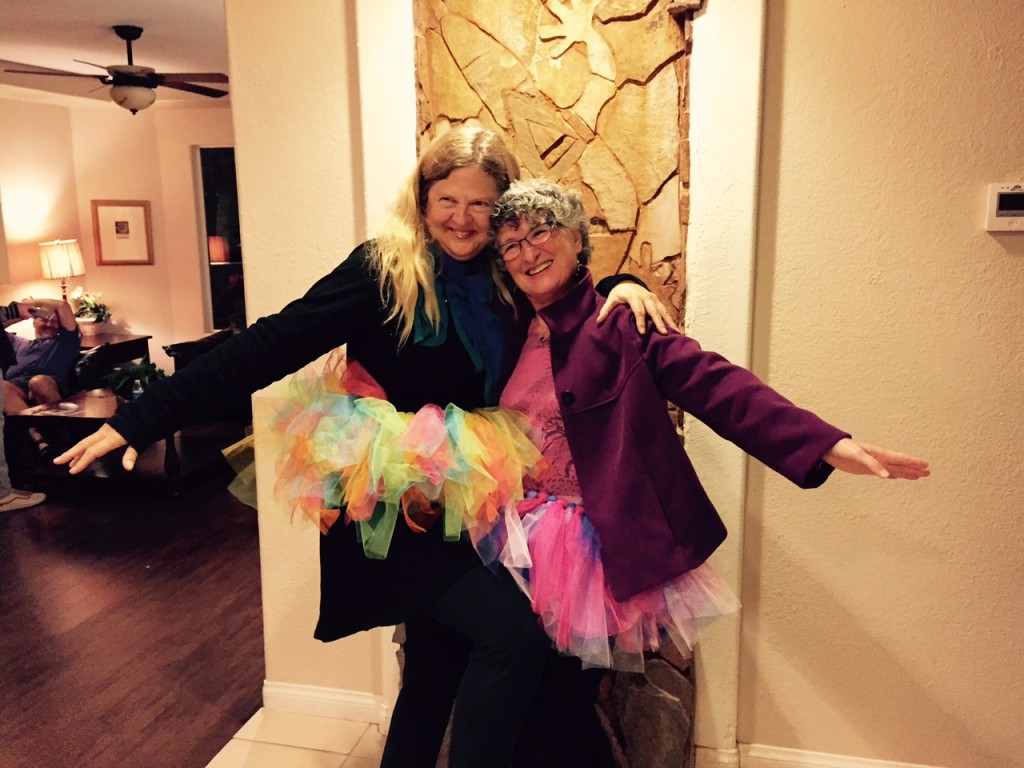 This is me and one of my favorite Moms wearing tutus in Las Vegas! I can't say more about it, because of course it was Las Vegas;-)
Her name is Kathryn, and she's the mom of my sister in law, Jennifer.
Jennifer actually made us these tutus and gave them to us for Christmas, in a giant box.
We had NO idea what could be in a such a giant box, and tore open the wrapping paper and screamed with absolute delight to find 2 multicolored tutus inside.
We immediately wore them out to dinner, and of course can't say more about that either, because what happens in Vegas stays in Vegas- except of course our tutus!
My mom Marjorie (aka Marvelous Marge) was known as the "fun mom" in our neighborhood and church. In fact she let me wear pajamas to church! She was an early Succulent Wild Woman.

What fun mom memories do you have of your mom or a mom? I'd love to know.
And of course it's all a mixture – a marvelous messy middle of every feeling.
Here's to having Tutu Much Fun,
SARK (aka Susan Ariel Rainbow Kennedy)
p.s. The blankets are here for you at a very special price for moms day & moms month! (why just have a day?) So you can't be late if you'd like to get one!