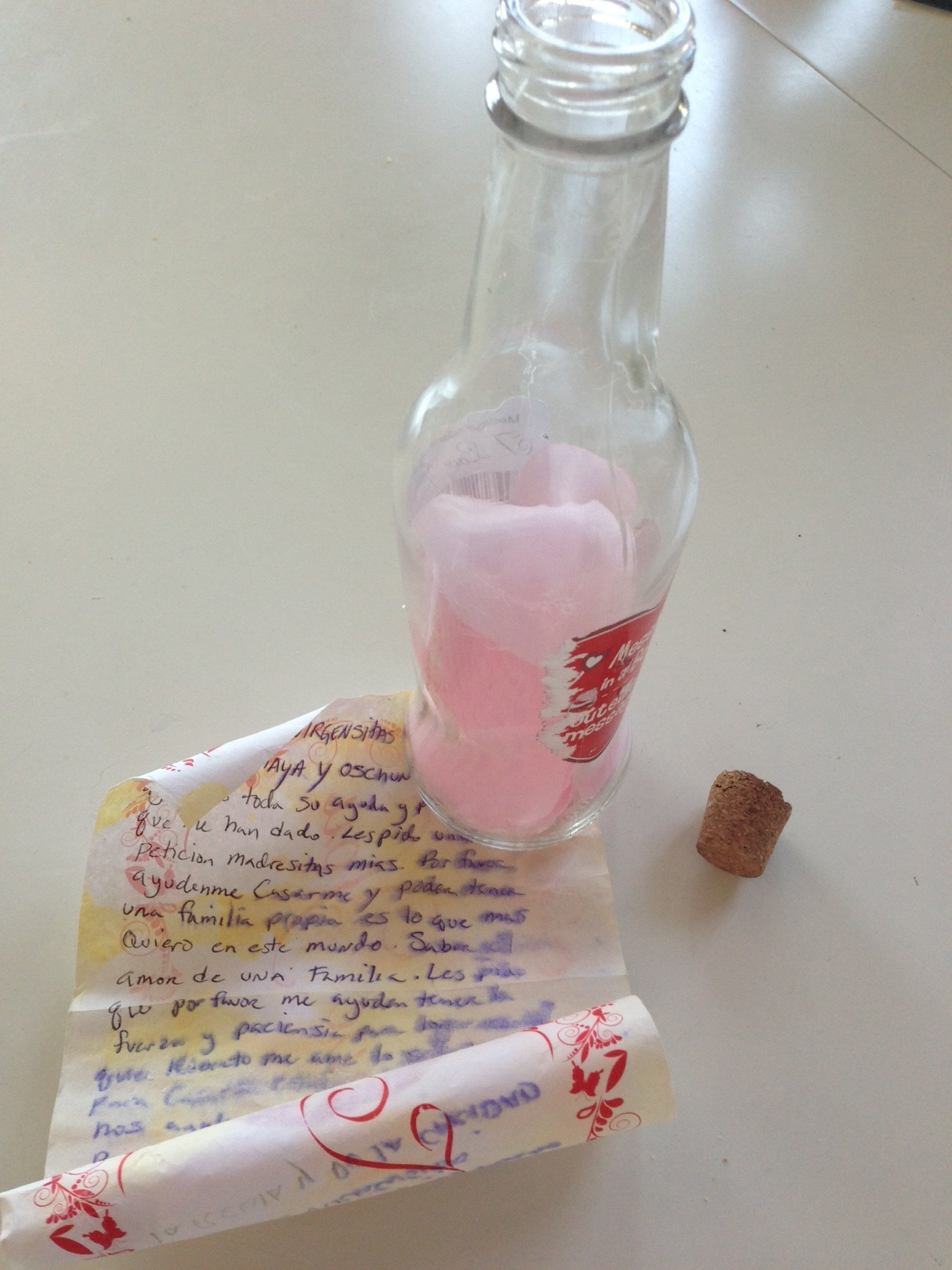 I've always wanted to find a message in a bottle.
To put a written message into a bottle, seal it and let the sea deliver it, seems to me to be pure magic.
John and I were taking a beach walk, celebrating our 6 month anniversary, and I found a note inside of a glass bottle, half buried in the sand.
I yelped at the sight.
It said "I love you" in a printed label on the bottle, which seemed kind of commercial to me, but since we didn't yet know what was inside, we decided to wait and see if there was something more personal in the written message.
We went to a favorite restaurant, and our friend and manager Arthur, extracted the cork. I put my index finger in and carefully pulled out the slightly damp rolled note.
It was written in Spanish, in a ball point pen, saturated with perfume, and a lipstick kiss. And if that wasn't romantic enough, there were pale pink rose petals inside the bottle.
A woman at a nearby table offered to translate, after we told Arthur that we didn't speak Spanish.
She said; "It's basically all about giving thanks to the virgin saints, for your complete love, health and happiness."
We joked about the virgin part, but the rest sounded about right.
We shared with our translator that we were celebrating our anniversary & love and people at other tables chimed in with their stories and blessings too. We all felt like we were in a love story together.
It reminded me that we are all always living our love stories- with ourselves, and others- and messages are delivered in all sorts of ways.
I want to always be on the lookout for messages and messengers of love and magic, and be open to however they arrive.
And live my life in the stream of energy that results. Especially when I feel scared, or shy or insecure. Or seeking support for my next best path.
I utilize the services of good coaches, guides and mentors at such times, and enjoy mentoring others too.
*In what ways are you living your own love story?
*Where are you coming forward or hiding?
*And/or are you practicing in the "marvelous messy middle?"
*Are you willing to be with all the aspects of yourself and others?
*How are you practicing loving your self?
Let me know.
With love, Susan (aka SARK)
p.s. – If you think you would benefit from being mentored by me, I have 2 openings right now in my Magical Mentoring program- to work 1 to 1 with me. Go here if you're interested & we'll see what magic results!