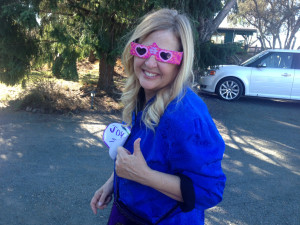 Dear Loving Soul,
Here I am, wearing love colored glasses, after teaching our Magical Manifestation ReTREAT in Calistoga last month with my beloved Dr. John Waddell and Amy Ahlers. It was an absolute SWIRL of joy + manifestations for everyone.
I'm remembering to wear these glasses as life events pop up that call for new vision.
For example, today there is really loud construction noise outside of every window in our home. There are multiple construction projects going on simultaneously. It's been going on for weeks, and usually, I'm pretty unfazed.
Today felt different,
It felt personally directed at me.
I forgot all about my love colored glasses.
I forgot to celebrate the streets being repaired, neighbors fixing their homes.
I forgot to stop resisting.
We always get to choose how to respond.
I am remembering to stop reacting, and redirect my energies.
I am remembering that this "problem" is really very minor and that I am blessed to live where I do.
I am remembering that it is not personal.
I am glad to know that I have the power to create a new scene, a different response, a humorous perspective.
I'm inviting you to do the same, with anything in your life that feels less than what you desire.
Putting my love colored glasses back ON,
Susan (aka SARK)
*John and I are going to be doing a live video adventure this Saturday/February 8th from 2-3:30 (pacific time) about Beaming Your Dreams Into Reality- and you're invited to attend. We'll be sharing about our Over The Moon 9 month mentoring program, and making a special personal announcement too.
Go here to sign up. We'll send a replay if you can't attend live.*