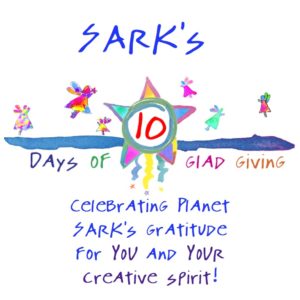 This time of year, I feel all warm and fuzzy (inside and out).  There's so much love and joy in the air and so much for all of us to be thankfull for…happiness, health, family, good friends and all the delightfull, wonderfull creativity available.
 
Here at Planet SARK we love to cultivate your creativity, so we've come up with a very special event to show how gratefull and appreciative the entire Planet SARK team is to have you in our lives. We named it SARK's 10 Days of Glad Giving!
 
During this de-LIGHT-full 10 days, we'll be featuring some of your favorite SARK transformational programs, and even introducing some ALL-NEW SARK products we know you will LOVE.
 
It all starts the day after Thanksgiving – watch your email and visit Planet SARK on Friday, November 23rd for all of the exciting details!
 
It's your Creative Spirit that fuels me – THANK YOU!