The abbreviated version: Life Happens & what you can do about it & our new book is almost DONE & you are delightfully invited to our free Love BEAMS community mentoring call on Thu/4 June 5:30pm PST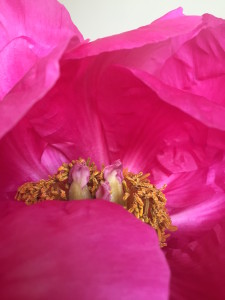 Dear Miracle Finder,
This glorious flower face was one of my healing views as I recovered from dental surgery over the past few weeks. 
Life (and dental work) definitely happens, and it often feels messy and inconvenient! It certainly didn't fit in with our book completion schedule. 
I'm glad to say that I've healed well and upgraded my health in general. And our wonderfull publisher and team at Planet SARK accommodated our book schedule changes- and the book is beautiFULL (you'll see it this fall!)
I'm offering you 3 grace notes for any healing times you might be experiencing or when "Life Happening" might be feeling messy or inconvenient;
1. It's really not personal (whatever it is)
This one is always challenging for me, since I tend to take most things personally. I remind myself that it isn't personal, being done TO ME. It may be happening to me, and I can choose to see it as an assault- or some kind or a happening- and that I can give that happening a positive meaning just as well as a negative one. 
2. It will change or end (whatever it is) 
Of course you know this, and you might forget, so I'm reminding you;-) and me.
3. Whatever is happening can be shifted by you (whatever it is)
The shifting is in your mind. It really is an inside job. If you look at "what is happening" and react with fear or resistance, it will feel worse. When you can positively shift, even a little bit, how you experience what is happening, there is room for love and grace and miracles to pour in. 
Let the pouring begin! 
We'll be sharing our wisdom and insights in Love BEAMING and mentoring with you in our free Love BEAMS call on Thu/4 June, and you are most delightfully invited. Bring your "Life is Happening" questions and we'll provide answers and perspectives.
Love,
SARK (aka Susan) and Dr. John Waddell (aka John:-)
p.s. Join John and me in our free Love BEAMS call on Thu/4 June at a new earlier time of 5:30PST to 7pm. Go here to sign up (you'll then receive the recording to listen to later too.)