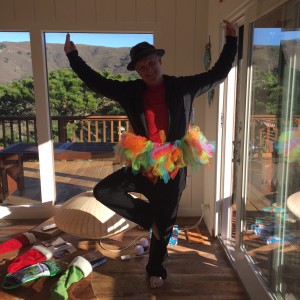 Dear Dad Appreciator,
For Mother's Day/month, I sent out an email called Moms in Tutus.
So here's my friend Clark, dad to Jonah, wearing my rainbow tutu.
When I asked him if I could share this photo, he texted back,
"Absolutely. I am proud to wear your tutu." He's good like that.
Then I remembered what my dad said after I published my poster called Just For Mom.
"Honey, what about the dads?"
And I explained that I hadn't yet written a poem for dads.
For years, almost every time I called or visited, he asked me where that poem was, and I replied that it didn't exist and that I wasn't even sure I could write it.
He and I had experienced a lot of personality challenges as I got older, and he was a traveling salesman, so wasn't home very often.
Then one day he called me, and said,
"Honey, I've just been diagnosed with cancer, so I guess I'll die now before I see that dad poem."
No pressure there. I went right to my juicy pen and created something called "How To Forgive Your Father." After I finished, I felt scared to show it to him, because it wasn't just all "nice."
When I finally shared it with him, he loved it. And he paid it his highest compliment, saying to me,
"This is fantastic honey. I'm going to get this laminated. "
(Because according to him, that's what you did with art you planned to save.)
He was a procrastinator, so he never did laminate that art.
The day of his funeral, my younger brother Andrew and I stood at the copy shop, laminating that poster.
I read it at the service and tucked a paper copy into his suit pocket.
Maybe someday I'll make that poem into a poster.
Meanwhile, I published it in my book Succulent Wild Woman (page 63)
Here's to all the dads, dadding around in tutus and loving all the moms and the children.
Here's to all the dads that have died or left or didn't know how important they were.
Here's to all of the dads.
Love,
SARK (aka Susan Ariel Rainbow Kennedy)