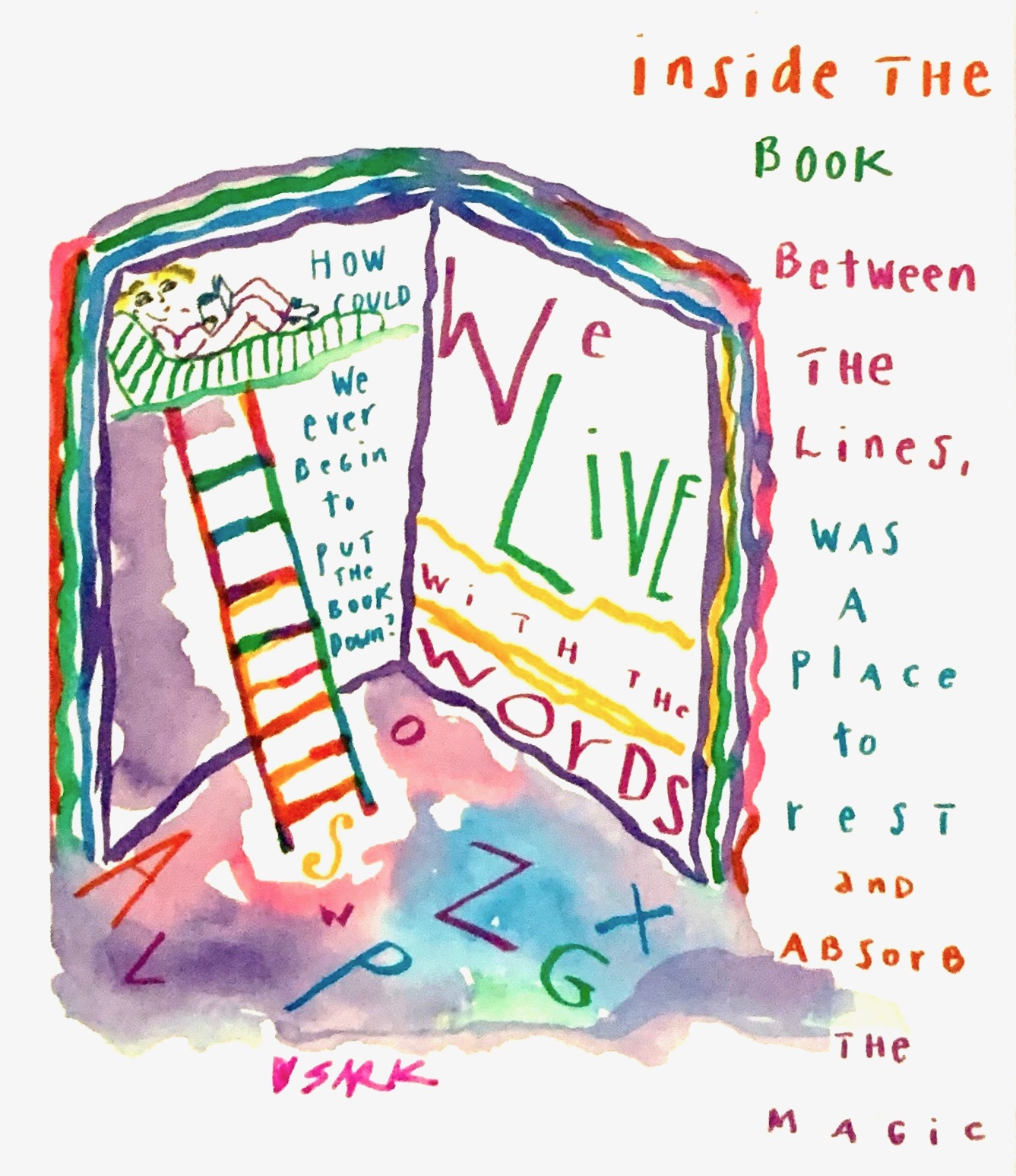 You might know that I read- a LOT.
It all started in one of my parents laps, and in first grade when my teacher dared me to read a book a day for a year and I did.
It continued in the library and the bookmobile (the first kind of mobile word magic) and in every kind of nook, corner and bed I could lie down in.
I kept it up on trains, planes and even sometimes in cars until I felt wobbly dizzy.
I read books while I lived inside the bookshelves at Shakespeare & Company bookstore in Paris, behind a purple velvet curtain.
Books are my best (not human) friends.
Then of course I write and publish books too. I've published 18, have created several that are in various stages, and have sketched out ideas for the next 50.
I'm doing more loving and living than book writing these days, and it feels good. If slow is the new fast, then I'm as fast as ever.
I've been slowly writing a new book in between naps- thank you to everyone who has asked! I'm envisioning a really new kind of way to share my new book, and you'll be hearing more about that.
Do you love books? What are you reading? Let me know- I'm curious.
Also, do you like reading ebooks or actual? Or a mixture? Do you like listening to books?
Ah, it's difficult to pick just 3!
I'll say 3 for just right now.
Drinking From the River of Light
By Mark Nepo
"With that, he made me realize that as we only see a dolphin when it breaks surface,
because it spends most of its life out of view in the deep, so it is with the poet and the artist and the lover aching to be loved."
Big Magic
By Elizabeth Gilbert
"The patron goddess of creative success can sometimes seem like a rich capricious old lady who lives in a giant mansion on a distant hill and who makes really weird decisions about who gets her fortune. She sometimes rewards charlatans and ignores the gifted. She cuts people out of her will loyalty served her for their entire lives, and then gives a Mercedes to that cute boy who cut her lawn once. She changes her mind about things. We try to divine her motives but they remain occult. She is never obliged to explain herself to us. In short, the goddess of creative success may show up for you, or she may not. Probably best, then, if you don't count on her, or attach your definition of personal happiness to her whims.
Maybe better to reconsider your definition of success, period."
Figuring
By Maria Popova
"Each that we lose takes part of us;
A crescent still abides,
Which like the moon, some turbid night,
Is summoned by the tides."
Emily Dickinson
And you? Do you have books or passages to share? Send and I will read and savor.
Love,