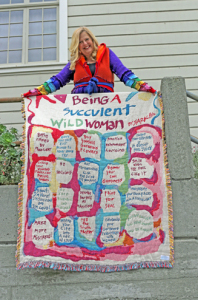 Dear Envisioning Soul,
When I first started writing and publishing my books, I thought of the pages as free to go and be other things, and they became fabulous SARK posters. The joy and inspiration was multiplied through this transformation from page to posters, and literally millions have been inspired to Be An Artist and to Really Love A Child, among the other expressions of love.
Then those posters became incredible blankets, and I watched with joy as they flew around the world, wrapping people up with creative dreams and love. I got photos from friends and readers – from all over the world – sharing that love with me, and it was warm and comforting, just like the blankets themselves.
And those blankets and that love multiplied until the company that wove the blankets went out of business.
For years I slept & napped under one of those original blankets and dreamed of a way to share that blanket love again. Then last year, a wonder~full new company let us know that they bought the looms from the previous company and could create SARK blankets again!
My wonderfull fiancé, John, inspired me and helped me to bring these blankets back, and I've been painting and creating new posters and blankets, and watching the love multiply yet again.
Since so many of my holiday memories involve these fabulous blankets, it's always this time of year that I begin to think of sharing these thread beams of love far and wide. I'm SO GLAD to share with you my newest creation – a new SARK blanket design!
You know I love writing, and believe that everyone is a writer of their life and soul. Being a Happy Writer of life and love is what I support people in doing, and I've created a special blanket all about that.
I've just received the new bundle of joy and am loving experiencing the creativity expansion when I nap under it!
I have a vision of people tucked into their blankets, reading, writing, napping, resting, creating, surrounded by love in all directions. I love seeing people doing just that and wanted to share a few of my favorite images with you.
Here are two of my friends and favorite writers of life and love; Dr. Rachel Naomi Remen and Dr. Lissa Rankin
Here is one of my favorite sparkle-faced friends, and joy appreciator, Annabella
I'll be sharing inspirations with you more over the coming days – including a very special holiday opportunity for you to get this new blanket – or any one of the 11 colorfull designs – at a very special price, just in time to share the inspiration and love.
May we all feel supported and inspired by what we surround ourselves with, and give ourselves soul nourishment.
Love, SARK (aka Susan Ariel Rainbow Kennedy)