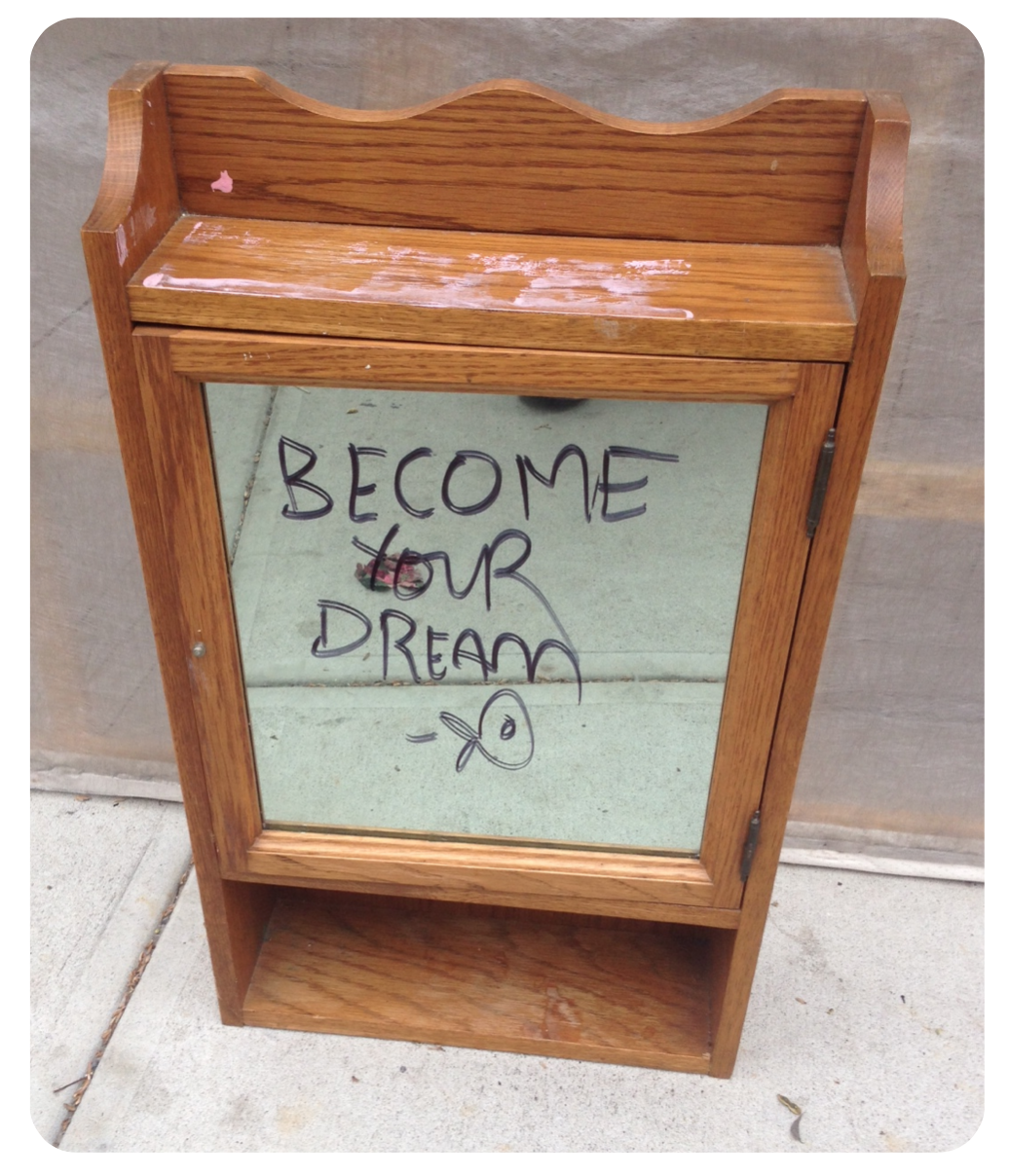 I found this medicine cabinet on the street in New York City when John and I were there last month. I think it represents a kind of soul medicine.
I love that someone wrote this message on the mirror:
"Become your dream."
And it reminds me that we can all do that- become our dreams.
Whatever you are doing or being right now, it's all a part of your dreams. Whatever you are not doing, or avoiding doing, it's all a part of your dreams. 
Every particle of you grows towards the light, even as we also grow in the shadows and dark.
Dreams are resilient, they don't go away, and it's not ever too late to begin, start again, or quit and start new.
It is tempting to think if something you've dreamed hasn't happened yet, or happened the way you thought, or happened at ALL, that it's not enough, or not building towards your dreams.
It IS though.
Even if it's crooked or grubby, or unformed, or unknown, it's all a part of everything.
And you can also lead your dream as well as follow it and become it.
Over and over I ask people:
"What's your dream?"
And I hear and see their answers in all of the creative projects, the babies, the new relationships, the businesses created, the homes rented or bought, the service given, the inventions of everything.
We all make everything up. 
So I ask you now, "What's your dream?"
Share with me below one or part of one, or one you wish you could grow, or one that's leaping and bounding beyond you, or share that you want one. It will grow and change shape in your naming it.
Your dream or dreams are becoming just like you are, in every moment and day.
Your Dreamcatcher Friend,
SARK (aka Susan Ariel Rainbow Kennedy)