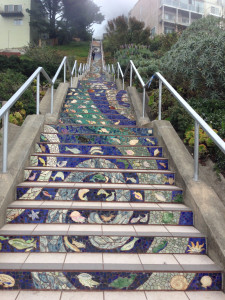 Dear Adventurous Life Living Soul,
Have you ever done something bold and daring – and looked back and wondered how you ever did that? I'm amazed by all the places I've traveled and walked in my life, and I know you have too.
I have so many memories and stories from the 250 jobs that I had from ages 14-26. I've done everything from goat herding to putting rubber tips on darts that shot out of toy guns. I had a grandfather who told me to "do everything you can think of doing, so you'll know what you don't want to do for the rest of your life." I was already an overachiever, so I decided to try a lot to find out what I didn't like! Many of the jobs only lasted a few hours, and I was fired from many of them. I also experienced some really fun and interesting jobs and learned a lot about service and humility.
When I went traveling in Europe at age 19, I made a point of doing the opposite of what people recommended. For example, everyone said that Switzerland was super expensive, and that there were no opportunities for students or people traveling on a budget, so I went to Zermatt.
I met a man in a store there who was looking for a house sitter and goat herder for 2 months while he was away. I had a fabulous chalet on the mountain that I got to by chairlift every day, in exchange for taking care of a few goats.
When I share many of these stories, I see them now as bold – and sometimes daring. (I was actually afraid of goats, but I still said yes so that I could live in this wonderfull house in Switzerland!) I see that some of the most creative, juicy, and life-changing moments in my life have come from taking "bold" actions. Yet, it never seemed that bold and daring to me at the time – because I was just following the guidance of my Inner Wise Self. I didn't really know then, that part of myself was "wise," I was just learning to listen to myself and what felt good- intuitively.
My Inner Wise Self has been with me for my entire life, and I know now that I can absolutely trust that guidance. Now, I cultivate my connection with my Inner Wise Self, because I know that when I'm connected, asking and listening, I receive the support and assistance that I need to live my life with creativity and joy – flowing in and out of ALL the feelings of my life, and using the many processes and tools my Inner Wise Self has given me over the years.
It's this connection to my Inner Wise Self and the consistent use of the tools and processes, that allow me to create – that allow me to fully express all of my gifts in the world – through my art, my books, my programs, and my LIFE.
I love to share what my Inner Wise Self has given me to support and empower you – and I especially love helping YOU to connect to your Inner Wise Self. I love all the ways I create to do that, and I'm thrilled to share about one way today -it's called SARK's Writing WONDERland.
I created and designed SARK's Writing WONDERland as a 6-week, self-paced program for expanding your connection with your Inner Wise Self, opening you further to all of your creative opportunities, and inspiring you to share and create in big and little ways in every area of your life.
I'm inviting you to join me now in the WONDERland!
You can find out all the details and receive immediate access HERE
I want you to know that your Inner Wise Self is allways there for you – ready to be asked for the guidance that will lead you to your most wonderfull, bold, daring, and FUN creations – and that you can ask daily about all the "ordinary" things of life too. Most people know that they have an Inner Wise Self, and most people don't ask this part of themselves for support and guidance. It's easy to start and a delight to practice- I'm so happy to share this with you.
With Ever Expanding Joy and Often Boldness,
SARK (aka Susan Ariel Rainbow Kennedy)