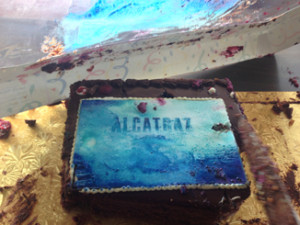 Dearest Adventure Bean,
In addition to my beloved partner John- and my Succulent Wild Relationship with myself- my friends, family and readers amaze me all the time, in ordinary and extraordinary ways.
My friend Yofe is amazing me right now with her plan to swim from Alcatraz in the San Francisco Bay, to shore.
She's been training for the swim for months, adding time to her usual daily bay swims. She doesn't even wear a wetsuit and the water temperature is about 58 degrees!
On her swim planned for thu/18 or fri/19 next week, she'll also face currents & marine life (aka sharks).
She's doing this to celebrate her 65th birthday. This is a photograph I took of her lying ecstatically in glitter at an art exhibit. The cake showed up one day at her swim club, and I just love how it looks like a painting.
If you'd like to leave an encouraging or celebratory note here for her, I'll make sure she receives it. She doesn't know I'm writing about this:-) I plan to surprise her after she reaches shore.
And, if you want to know more about Succulent Wild Relationships, you can go here.
With wild amazement,
SARK (aka Susan Ariel Rainbow Kennedy)