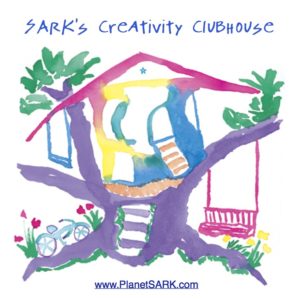 You are your creative dreams and great ideas are SO LUMINOUS they can be seen from outer space.
I had a dream where I saw the glow from all you delicious human beans on earth and what you are creating.
Sometimes we think we're alone, or "the only ones." That's what is so important about creative community. It shows us all the other beans, learning and growing right along with us.
I am sending you a BIG BURST of enthusiastic applause and wonder for YOU and your creative dreams.
Your creative dream energy has the power to transform the world, and already is by your focusing on it.
I encourage you to invest your time and energy in your creative dreams.
Choose to face every resistance, and apply willingness instead.
I give you extra courage and a wellspring of blessings. Let me know what transpires next 😉
I invite you to enter my creative community – SARK's Creativity Clubhouse for more delicious support and transformation!